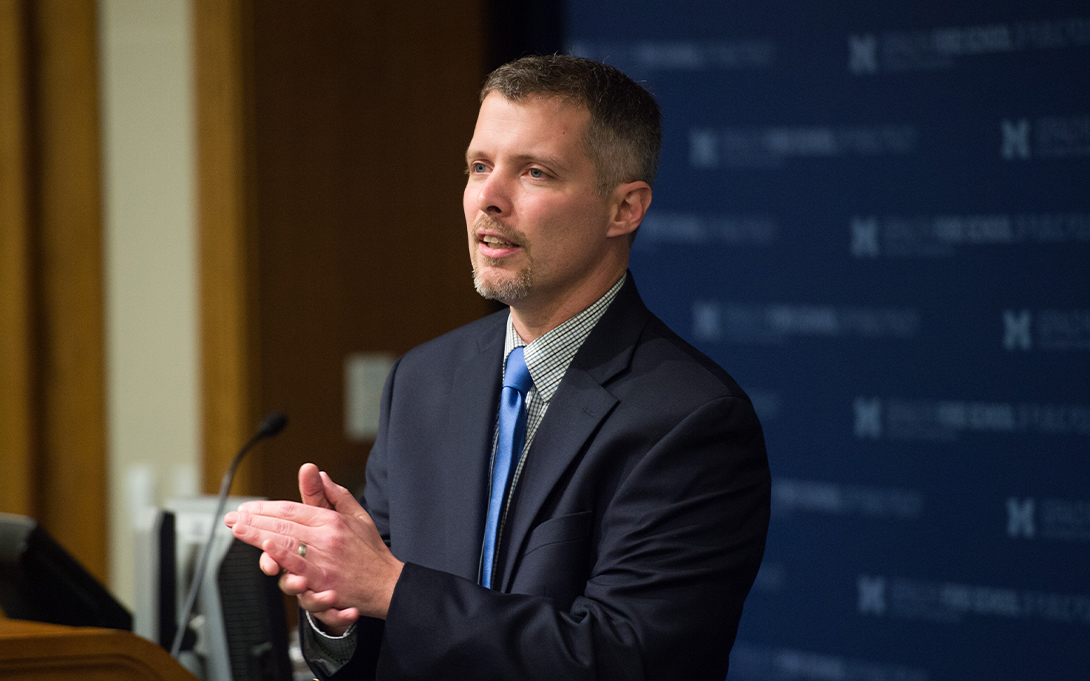 Employer Resource Networks (ERNs) involve local networks of employers collectively providing work support services to their entry-level workforce. In a paper published for the American Enterprise Institute, Hermann and Amalie Kohn Professor of Social Justice and Social Policy and Ford School Associate Dean for Research and Policy Engagement Luke Shaefer argues they "hold promise for addressing the societal challenge of unstable labor market attachment among low-earning workers while increasing worker productivity."
Shaefer wrote the paper with Joshua Rivera (MPP '17), the policy director for the Economic Stability Administration at the Michigan Department of Health and Human Services who was formerly the senior data and policy adviser at Poverty Solutions, of which Shaefer is faculty director.
The ERN model was developed in direct response to a business human resource need, which was identified by business leaders. Unlike social programs aimed at low-wage employment, ERN is led by the human resource management world rather than workforce development or social services. "They are a market-based solution to a challenge facing both businesses and society writ large: to ensure that workers from low-income families can find and maintain employment over time," the paper states.  
ERNs are community-based, employer-led business consortiums, and call for cost-sharing in providing education, technical support and other support services. The businesses take advantage of the economies of scale to provide services they could not afford on their own. The primary objective is to increase job retention for participating employers, and a secondary goal is to improve worker productivity.
The paper compares other models for employee retention and training, including the Employment Retention and Advancement (ERA) Project, the United Kingdom's Employment Retention and Advancement Project (UK ERA), Work Advancement and Support Centers (WASC), and the WorkAdvance project, among others. Each offers successes and limitations, but to make a real comparison, a more rigorous evaluation of ERNs is needed to explore their sustained impact on employment, earnings, and well-being. 
"As the debate over how to best encourage and support sustained work for low-skilled individuals receiving social service benefits continues, a deeper examination of ERNs as a private-sector solution could reveal new and promising strategies for supporting workers and their families," the authors propose.
The paper can be read here.
Shaefer will participate in a webinar hosted by The American Enterprise Institute on October 22, from 11:00-12:30 ET, "Employer Resource Networks: Improving employment retention and building career opportunities for low-wage workers". Click here for more information.