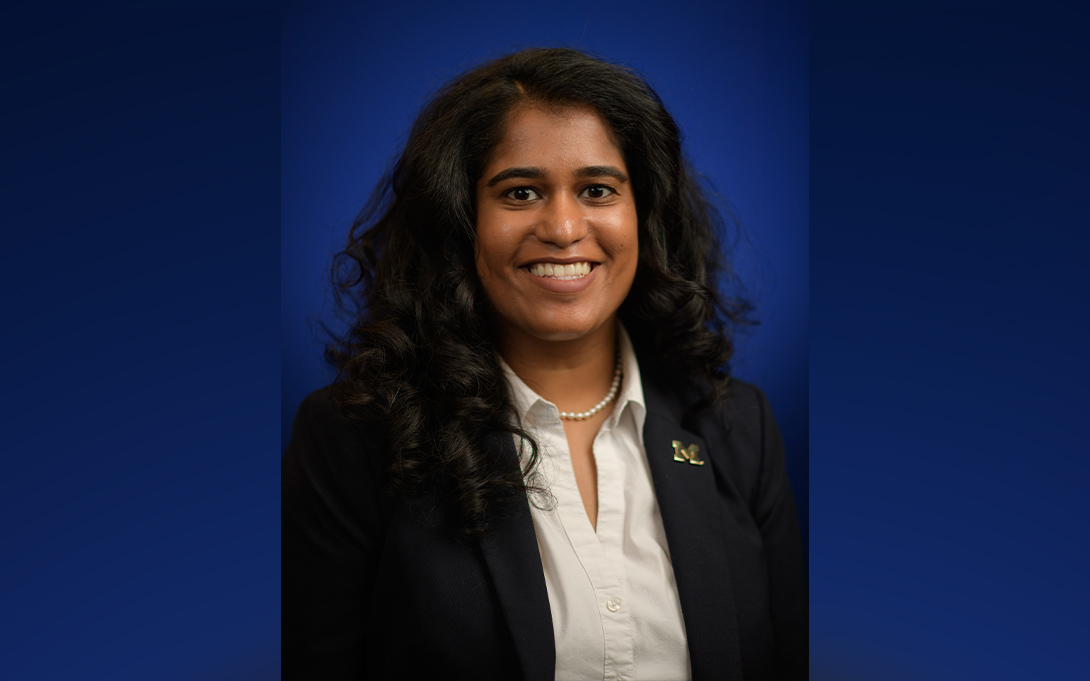 Iqra Nasir (MPP/MS '21) was selected as one of the two 2020 Riecker Michigan Delegation Fellows. Named for Margaret (Ranny) Riecker, a longtime friend and generous benefactor of the Ford School, this fellowship sends competitively selected graduate students to Washington, DC to complete a six-month assignment with a senator or representative from the state of Michigan. 
Iqra served in the office of Senator Gary C. Peters (D-MI) (Ranking Member) on the Senate Committee on Homeland Security and Governmental Affairs between January and July 2020. Two weeks into her fellowship she was asked to assist on matters related to the Presidential impeachment proceedings and to review the Administration's 2021 budget request. Not long after that she transitioned to work from home, and for the remainder of her fellowship, she put in 70+ hours per week on Congress' COVID-19 response.
Her efforts were noticed by the staff director in Senator Peters' office, David Weinberg, who said, "Iqra was an important part of our team. We appreciated her expertise on environmental and regulatory affairs policy and her ability to discuss the nuances of highly technical subjects in a clear and concise manner." 
We caught up with Iqra to hear more about her experience during such a tumultuous time, which she calls "eye-opening and phenomenal."
Q: What kinds of projects did you work on?
IN: I had the opportunity to work on a variety of issues and was an active member of Senator Peters' team. I wrote daily summaries of the impeachment proceedings and prepared questions for the nomination hearings of Russell Vought (OMB Director) and Derek Kan (OMB Deputy Director). I reviewed, analyzed, and provided feedback to the Senator on the CARES Act and the House Bill: Families First Coronavirus Response Act. I was also asked to draft reports about the environment and sustainability, which is my policy area of focus. 
Q: What of these experiences was most memorable for you, and why?
IN: Being able to play a role in assisting with the pandemic relief package during a time when our nation faces an unprecedented public health and economic threat is something that will stick with me. I will also never forget when I was able to witness the impeachment live and sit quietly as I listened to defense from both Congress and President Trump's lawyers. I was privileged to have witnessed that moment in history.
Q: What are your takeaways? What's next for you? 
IN: I cannot express enough how much this experience has changed me, the value it has added to my list of experiences, and the meaningful connections it has allowed me to build. Every part of this experience challenged me to utilize and hone my skills I learned from the Ford School, and I gained significant insight on the Congressional process. 
This experience reconfirmed my desire to pursue federal public service. It opened my eyes to thinking more critically about climate change as a matter of national security and to continue to advocate to protect the Great Lakes and ensure clean and safe drinking water for generations to come. Following graduation, I hope to move to Washington D.C. to advocate for enhanced environmental safeguards and continue to build our nation's resilience against one of the nation's greatest threats: climate change.
---

The Riecker Michigan Delegation Fellowship, a permanently endowed fellowship at the Gerald R. Ford School of Public Policy, was established in 2015 through an estate gift from Margaret Ann "Ranny" Riecker, a longtime friend and generous benefactor of the Ford School. A supplemental gift from the Harry A. and Margaret D. Towsley Foundation extended the opportunity to additional fellows.