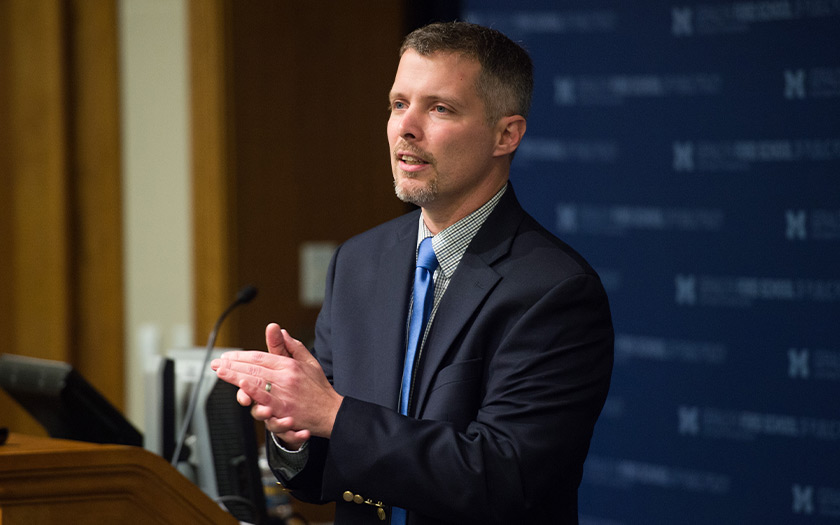 "Sometimes, when we're not looking, government does the remarkable." That's the assessment of Ford School professor H. Luke Shaefer, director of Poverty Solutions, on the effectiveness of Michigan's response to the economic crisis created by COVID-19. Shaefer, an adviser to Michigan's Department of Health and Human Services (MDHHS), shared his observations in a recent op-ed published by Bridge Michigan.
Imperial College of London made an estimation that the Whitmer administration's actions saved thousands of lives. Shaefer says the governor also took a number of important steps to quickly help struggling families with their livelihoods. 
Early on, as unemployment soared, Michigan was the first state to utilize federal legislation to expand food assistance to struggling families through the Supplemental Nutrition Assistance Program (SNAP), sending $30 million to 300,000 struggling families in the first day of the program alone. MDHHS and the Michigan Department of Education also took quick action to identify kids who accessed free school meals (but not SNAP) and led the nation in creating a "new process to ensure that they got help too." 
The Whitmer administration also worked collaboratively with state agencies, utilities, and municipal governments to streamline processes and bolster funding to provide greater housing security, expand unemployment assistance, and support families struggling to pay heating, water, and electricity bills. 
For Shaefer, Michigan's successful response is reason to take notice, and apply lessons learned to future crises. 
"During this historic crisis, the State of Michigan has mounted as aggressive a response as any state in the union. Millions of Michiganders who were impacted directly are better off for it, as is the state as a whole. We should stand up and take notice, and we should expect that our state leadership show this kind of action on behalf of families, always," he says.
Read H. Luke Shaefer's full guest commentary in Bridge Michigan here.