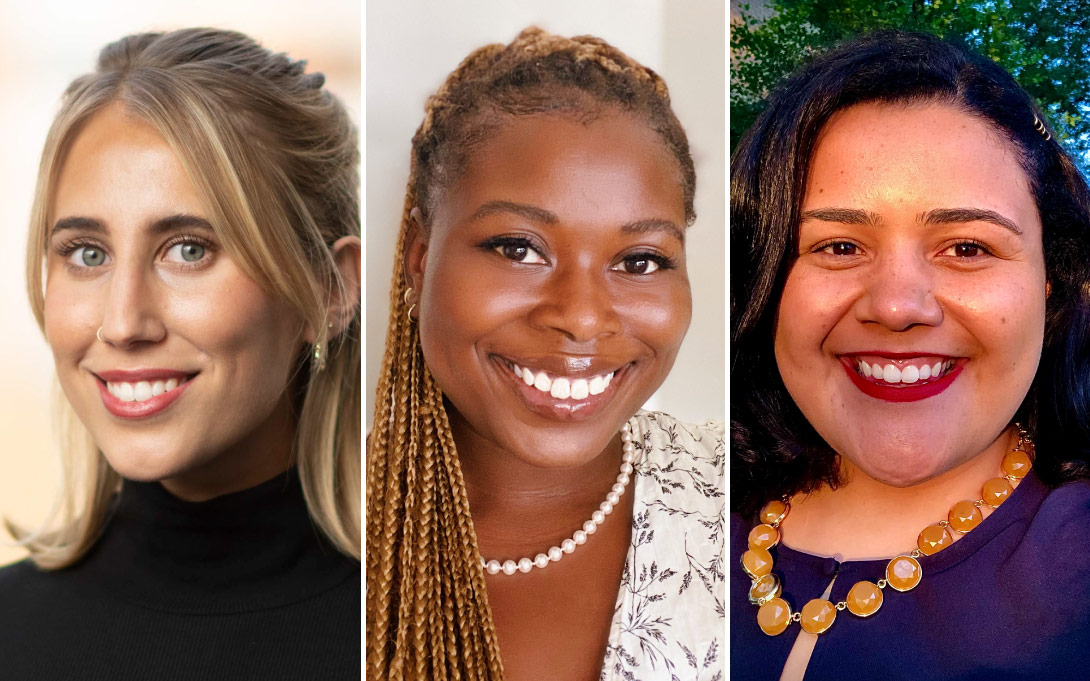 Congratulations to three incoming graduate students—Emma Jabour, Terri N O'Neal, and Olivia Vaden—who have been selected to receive the 2022 David Bohnett Foundation Leadership and Public Service Fellowship
The Bohnett Fellows receive two years of in-state tuition support, will serve a paid internship with the City of Detroit Mayor's Office next summer, and will attend the U.S. Conference of Mayors meeting in Washington, DC
Since the launch of the fellowship in 2010, Bohnett Fellows have served integral roles in Detroit's public service projects including, but not limited to, infrastructure projects, social justice initiatives, bolstering small business development, and community outreach. The Ford School would like to extend a heartfelt thanks to University of Michigan alumnus, David Bohnett (MBA '80), who established the fellowship, and genuine appreciation to the Detroit administrators who will work with our fellows next year.
Learn more about the Bohnett Fellowship and read about previous fellows' experiences here.
Emma Jabour
A Michigan native, Emma Jabour is a Master of Public Policy student at the Gerald R. Ford School of Public Policy and a David Bohnett Leadership and Public Service Fellow. Emma previously lived in Washington, DC and was a Project Officer for USAID Advancing Nutrition, where she backstopped programming in the Kyrgyz Republic, Mozambique, Tanzania, and Ghana. Before pursuing her career in DC, Emma was a campaign staffer for Matt Morgan for Michigan, MI-01's 2018 Democratic campaign for U.S. Congress. Working on the campaign solidified her passion for grassroots mobilization and Michigan politics—she remained an avid volunteer for candidates across Michigan while living and working in DC. Emma holds a Bachelor of Arts in International Studies and a minor in Community Action and Social Change from the University of Michigan.
Terri N. O'Neal
Terri N. O'Neal was born and raised in Detroit, Michigan. She is a community curator who is inspired by the everyday grassroots initiatives residents create to build and sustain communities. Terri is compelled to engage policy solutions to address equitable community development and neighborhood revitalization in historically under-resourced communities. She has worked in capacity building in Atlanta, New Orleans, Boston, Durham, and Chicago, and was proud to bring all these experiences back to her hometown Detroit. She has since worked in community development in the Gratiot-Grand and Durfee/ Central neighborhoods, engaging residents at The Durfee Innovation Society. She enjoys serving her community by volunteering with the National Council of Negro Women - Detroit Section. In addition, she finds joy in caring for her plants, exploring the City's hidden treasures, and browsing estate sales. Terri received her BA in Sociology and Anthropology with a concentration in Comparative Women's Studies from Spelman College.
Olivia Vaden
Olivia Vaden has spent the last two years as a Council of Michigan Foundations Philanthropy Fellow at the Ralph C. Wilson, Jr. Foundation in Detroit. As a fellow, Olivia worked closely with the Foundation's caregivers and workforce development funding strategies. She received her BA in Public Policy with a minor in Women and Gender Studies from Michigan State University in 2018 and entered the philanthropic sector soon after graduating. Olivia is excited to begin a new adventure in Ann Arbor and particularly interested in studying how the state and Michigan philanthropy can better address real-time issues Michigan residents face. Specifically, Olivia is interested in better understanding how we can reimagine the role of home health workers to justify raising their wages. A proud Michigander and a self-proclaimed Michigan "lifer," Olivia is passionate about creating a better home for future generations of Michiganders to come.
David Bohnett is a University of Michigan alumnus (MBA '80) and entrepreneur. The foundation that bears his name is committed to improving society through social activism.