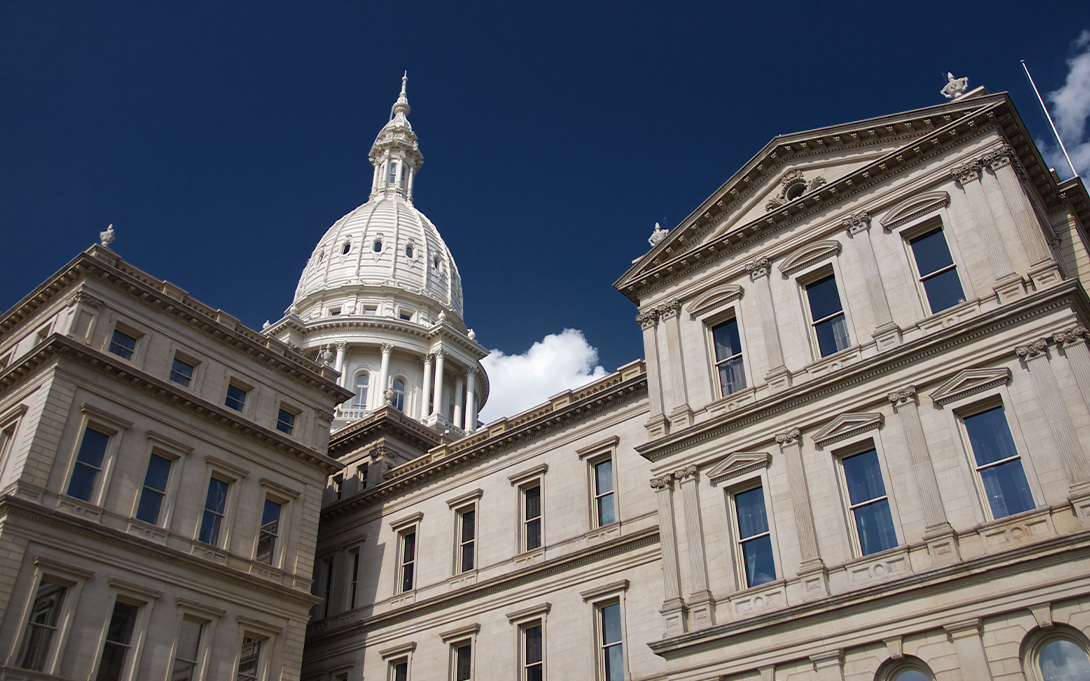 Ford School alumni and students played a key part in upholding democracy during the 2022 midterms—running for office, knocking on doors, and working at polling stations, up and down the ballot, across Michigan and around the country.
Several Fordies ran for office, and will serve in Michigan's state legislature.
Stephanie Chang (MPP/MSW '14) was re-elected to State Senate District 3, which includes downtown Detroit, Highland Park, Hamtramck, Hazel Park, Madison Heights, Warren, Clawson, Royal Oak, Troy, and Sterling Heights. Chang was first elected to the State House in 2014, the first-Asian American woman to be elected to the Michigan legislature, where she served two terms before moving to the Senate. She had previously worked as a community organizer in Detroit for nearly a decade. 
Current student Alabas Farhat (MPA '23) won his race in State House District 3, where he will represent areas of Detroit, Dearborn, and Melvindale. Farhat currently works for Wayne County in government relations. Zeinab Alhashemi (BA '24) served as Farhat's campaign manager.
Winning his race in State House District 14, Donovan McKinney (BA' 14) will represent northeast Detroit, Warren, and Center Line in Lansing. McKinney has held many positions, including being a legislative director in the State House, working in admissions at Wayne County Community College District, being the National Political Director for Climate Power, and sitting on Michigan's Environment Justice Council.
Jason Morgan (MPA '18) was elected to serve State House District 23, which is located in Ann Arbor and includes the University. Morgan is currently serving as a Washtenaw County commissioner, representing Burns Park and central Ann Arbor neighborhoods. He was elected chair of the Commission in 2019, becoming the first-ever LGTBQ chair in the county.
Fordies also contributed in other important ways, working on campaigns and at polling stations, and getting out the vote.
Several students served as UMich Votes Fellows as a part of the Creative Campus Voting project. Mlaika Azhar (BA '24), Hannah Jatsch (BA '24), Mark Kava (BA '23), and Isabelle Schindler (BA '23) helped simplify the complicated voting process for students, register voters at the satellite clerk's office based in the University of Michigan Museum of Art and promote voting amongst students. Following the election, Schindler analyzed election results in an opinion for CNN.
In two successful campaigns in and around Ann Arbor, Ryan Bartholomew (BA '15, MPP '19) served as State Rep.-elect Carrie Rheingans' (MI-47) campaign manager and State Rep.-elect Jennifer Conlin's (MI-48) field director. Irving Peña (BA '23) assisted as a progressive turnout fellow.
"In addition to just how much goes into running a campaign, I learned that local issues still very much matter in state-level politics, despite what many pundits say," Bartholomew said. "In Representative-Elect Conlin's race, many independent and Republican voters were swayed by her positions on hyper local issues (i.e. building a health care clinic in Whitmore Lake and removing PFAS from the drinking water)."
Charlie Callis (BA '18) served as the community program director for Swing Left, where he worked with over 300 groups across the country to get out the vote. Callus supported volunteer groups and coordinated a nationwide bus program to knock doors in swing districts.
Emma Cohen (MPP '24) worked as a voting rights intern with Public Citizen. She focused on educating U-M students about Michigan's Proposal 2, which expanded voting rights and ultimately passed.
Harrison DeChant (MPP '25) and Nicholas DeChant (MPP '25) continued their work with the Absentee Ballot Board in Grand Rapids, which they have done since 2020. They pre-processed tens of thousands of ballots both in the August primary election, and on Election Day. The brothers were featured in the LA Times and by Wood TV for their public service.
"Both of us signed up to help, and continue to help with this important process, because it aligns with our value of being an active citizen in a democratic society," Harrison said. "Participating in the election process connects you with your community in a very special way and reinforces the ideas that 1) You live among and with many many people in your community and 2) individuals with a multitude of backgrounds can come together to perform a very important role in our society."
Janani Gandhi (BA '22) was a finance assistant on U.S. Senate candidate Cheri Beasley's campaign in North Carolina.
Turn Up Turnout (TUT) is a student-led, nonpartisan organization that increases voter registration and turnout for college students. TUT's president, Sophie Greenberg (BA '23), and vice president for voter registration, Rose Reilly (BA '24), oversaw more than 100 voter education events. Both were very involved in building out the tri-campus effort in Ann Arbor, Dearborn, and Flint. Reilly also worked with the League of Women Voters on voter registration at Washtenaw County high schools.
Alexis Howard (BA '23) and Olivia Bradish (BA '23) both worked as political fellows for Governor Gretchen Whitmer's campaign. In this role, they coordinated and executed campaign events and built relationships and support for the governor across the state.
Sara Isaacson (BA '23) worked as an organizing fellow for Sister District, an organization that helps flip and hold state legislatures blue. Isaacson spent time calling voters in key races to increase voter turnout and down ballot voting. 
Samuel Lawrence (BA '18) joined 50 + 1 Strategies as a campaigns strategist. In that role, Lawrence focused on building and activating a broad coalition to support California's Proposition 30, which would tax wealthy Californians to fund clean air initiatives.
As the director of media operations for Alper Strategies + Media, Kristy Pritzl (MPA '22) managed strategy and media planning and production activities for Michigan's successful Proposal 3 ballot initiative, which provides a state constitutional right to reproductive freedom.
Theresa Ross (BA '19) assisted with U.S. Rep. Cori Bush's (D-MO) and U.S. Rep.-elect Summer Lee's (D-PA) campaigns as the senior digital strategist for Middle Seat Digital.
Parker Short (BA '24) played a key role in Georgia's midterm elections, serving as the vice president of Georgia Young Democrats. He described his experience: "Politics is not accessible. The structure of state and local parties is inhospitable to many by design and isolates power among entrenched politicos. Our organization looks to bridge that gap by empowering young organizers with resources and support to navigate the state party and coordinate with campaigns. In practice, this means facilitating canvass launches, text, and phone banks, raising money for our chapter's activities, creating engaging programming targeted at young voters, creating engaging and informative content about elections, and putting people in touch with job opportunities on campaigns."
Ethan Story (BA '23) served both as Morgan's deputy campaign manager and as Ann Arbor Mayor Christopher Taylor's campaign manager. He was responsible for coordinating endorsements, managing social media and websites, and learning about the new areas of the redrawn district. He spent much of his time canvassing, estimating he knocked on thousands of doors throughout the campaign.
"I'm a firm believer that every single election is the most important election of our lifetime," Story said. "With things like abortion on the ballot, the battle is going to be at the state level. I love this city, and I would like to live here one day. But I can't afford to. One side of city politics would like to make it less affordable, and the other side of city politics believes in all of the things I believe in and making the community more progressive."