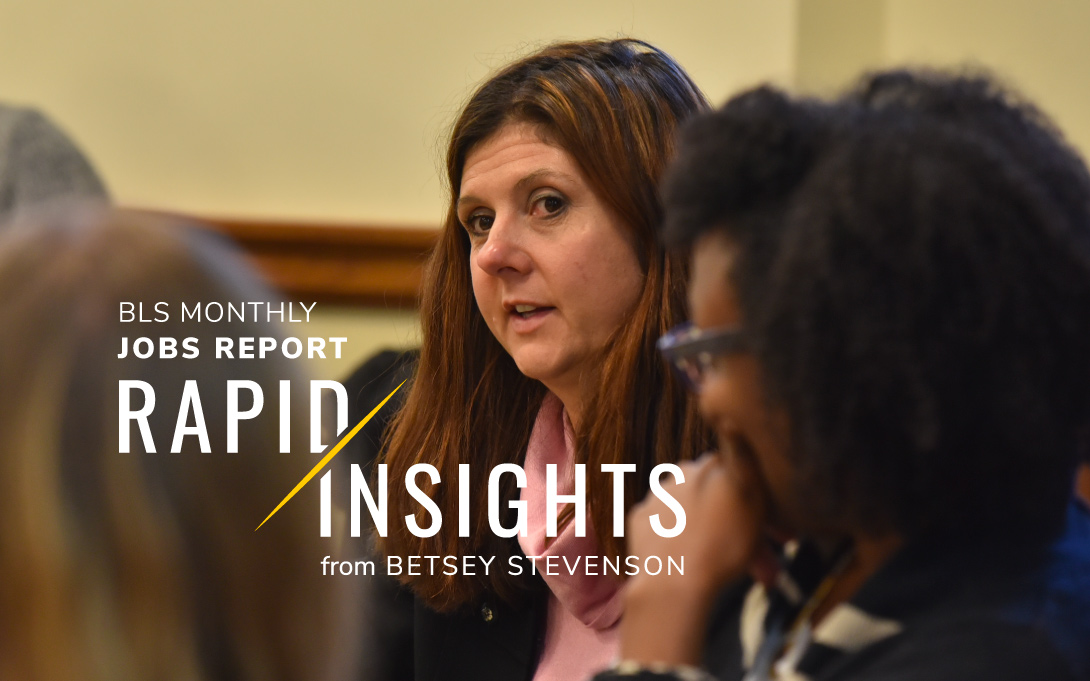 Employers added 223,000 jobs in December 2022, capping a year marked by record low unemployment and high job growth. The unemployment rate fell to 3.5% with a slight increase in the labor force participation rate and employment rate, according to new data released Friday by the Bureau of Labor Statistics.
The private sector industries slowest to recover from the pandemic continue to drive job growth. Leisure and hospitality services accounted for 30% of job growth this month, and yet employment in the sector continues to be 5.5% below February 2020 levels. Similarly, health and social services such as child care and nursing care have been slow to fully recover and both have shown ongoing strong growth in recent months.
"Data on hiring and employment continues to highlight the strength of the economy and makes it clear that economic growth in the wake of the pandemic is continuing. Fears that we are in a recession are unwarranted," said Betsey Stevenson, economist at the University of Michigan's Gerald R. Ford School of Public Policy.
1. Average monthly job growth for 2022 was the second highest in history
Average monthly job growth in 2021 exceeded that of any previous year on record, reflecting the need to add back jobs that were lost in 2020 and support the strong v-shaped recovery. 2022 was the second fastest year on record for job growth. While the pace of job growth slowed over the course of 2022, the average for the final three months of 2022 was 247,000 jobs per month, a rate that exceeds the pace of job growth for much of the 21st century. The challenge for the labor market is that the 2022 pace of job growth is unsustainable without a large expansion in available workers. The recovery in the number of workers available and seeking work has been much slower than the recovery in the number of jobs available.
2. A stronger recovery in labor force participation is needed to support ongoing job growth
Few groups have experienced a full recovery in labor force participation. Younger people were the most likely to exit the labor force during the pandemic, and they have yet to fully recover to their pre-pandemic labor force participation rates. While their participation rates bounced back quickly in 2020, a stubborn gap emerged for both young men and women that has shown little movement over the past two years despite the record tight labor market.
By age and gender, only women ages 35 to 44 had a labor force participation rate in December 2022 that exceeded their participation rate in February 2020. By mid-2022, prime age women, those ages 25-54, had a participation rate equal to their pre-pandemic rate, but in recent months their participation rate slipped. Prime age men's labor force participation also remains below their pre-pandemic rate, although those who are slightly older have had the greatest recovery.
Adults over the age of 55 had a much smaller decline in their labor force participation but it has not significantly narrowed since it emerged.
Taken together, labor force participation rates for both men and women, particularly among younger and older men and women, have yet to fully recover. Labor force entry tends to occur slowly, and there is little sign that the tight labor market in 2022 did much to speed entry rates. However, without an increase in the labor force, employers will find it increasingly difficult to hire workers with the unemployment rate at a 50-year low.
3. Job growth is slowing in the industries that have expanded the most
Business and professional services and information services lost jobs in December 2022. Widespread reports of layoffs in the tech sector over the past few months suggested a significant slowdown in the information sector, but December marked the first month of a net decline in employment. The sector had grown nearly 6%above its February 2020 level, and many companies have reported that they "overhired" in response to the surge in demand for information technology services during the pandemic.
Similarly, employment in business and professional services also grew robustly over the past two years, expanding by 5% over its February 2020 level before showing slight declines in November and December 2022.
4. Caregiving jobs are continuing to recover
One of the slowest areas of the economy to recover has been caregiving. Child care, nursing care, social assistance, and overall health care employment was slow to recover in 2021. Nursing care and child care in particular began 2022 well below their pre-pandemic levels of employment. These sectors grew strongly in 2022, and while they ended the year still below their pre-pandemic peaks, strong employment growth in the latter part of the year suggests growth in these sectors will continue in 2023.
The health care sector was a driver of job growth in the pre-pandemic era. Between 2015 and the start of the pandemic, job growth in health care and education services accounted for 26%of overall private sector employment growth. And yet in 2021, it accounted for only 9% of job growth and had not fully recovered all the sector's lost jobs from the pandemic until the fall of 2022. Overall, growth in health and education services grew more sharply in 2022 than 2021, accounting for 21% of all job growth over the year. The growth continued through the end of the year, and in December, job growth in the sector accounted for 35%of all job growth.
About this analysis
The University of Michigan's monthly Rapid Insights labor market analysis is conducted by Betsey Stevenson, economist at the Gerald R. Ford School of Public Policy; and Benny Docter, senior data and policy analyst at Poverty Solutions. The project is funded by the Robin Hood Foundation, with support from the Ford School and Poverty Solutions.