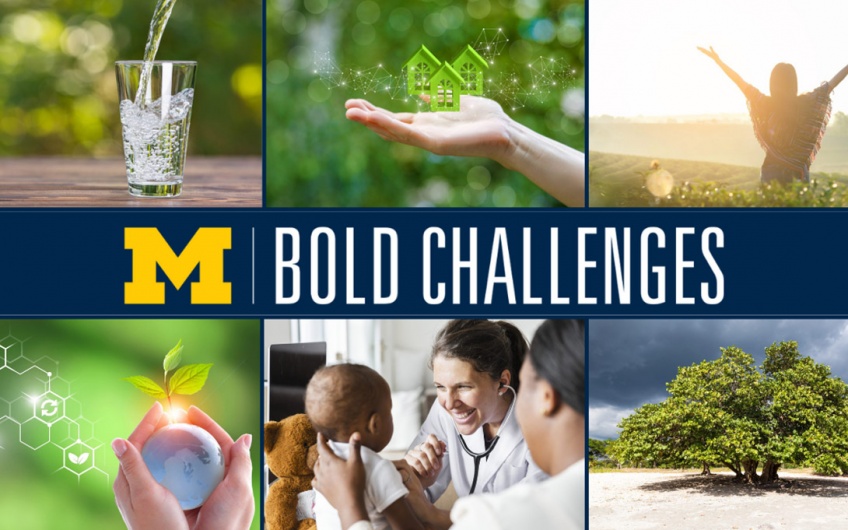 Three research teams with Ford School affiliations have been selected among eight programs across the U-M campus to participate in the first cycle of the Bold Challenges Initiative's newly-launched Boost program.
The Boost program supports new and early-stage multidisciplinary teams whose ambitious, transdisciplinary projects have substantial potential for significant large-scale funding.
This year's teams are working on a range of topics including new approaches to supply the critical minerals needed in electric vehicle manufacturing and mitigating the aviation industry's environmental impact.
"These teams have great potential to secure large-scale funding and find solutions to problems that affect our society on a massive scale," said Arthur Lupia, executive director of Bold Challenges, associate vice president for research – large-scale strategies, and the Gerald R. Ford Distinguished University Professor of Political Science. Lupia also is a professor of political science in LSA and a research professor in the Institute for Social Research's Center for Political Studies.
Bold Challenges was designed by the Office of the Vice President for Research to increase U-M's capacity to conduct large-scale and highly impactful interdisciplinary research. It is a key component of President Santa J. Ono's university-wide Strategy to Amplify Research and Scholarship.
Unlike classic pilot funding programs, interdisciplinary teams that are part of the Boost program receive dedicated, expert support on topics like team building, effective communication for large-team science and a wide range of facilitation and ideation support for highly competitive grant proposals.
Each team also receives $75,000 for activities that strengthen its capacity to conduct groundbreaking research and better position its work for future proposals from organizations like the National Institutes for Health and National Science Foundation. Funding can be used to purchase materials, conduct tests and hire undergraduate and graduate researchers.
Applications for the 2024-25 Boost program will be available early in 2024.
The Ford School-affiliated projects are:
Community Tech Workers: Advancing a Sustainable Vision for Small Business Tech Support in Detroit
Julie Hui, assistant professor of information, School of Information
Kristin Seefeldt, associate professor of social work, School of Social Work; associate professor of public policy, Gerald R. Ford School of Public Policy
Tawanna Dillahunt, associate professor of Information, UMSI
Christie Baer, assistant executive director, Center on Finance, Law & Policy, Ford School
Lutalo Sanifu, U-M Detroit Neighborhood Entrepreneurs Project, director of neighborhood resilience, safety and business district services, Jefferson East Inc.
Biotechnology-Enabled Circular Economy Strategies for Equitable and Community-Focused Sustainable Infrastructure
Steven Skerlos, Arthur F. Thurnau Professor; professor of mechanical engineering and of civil and environmental engineering, CoE
Arun Agrawal, Samuel Trask Dana Professor, professor of environment and sustainability, SEAS; professor of political science, LSA; and professor of public policy, Ford School
Shanna Daly, Arthur F. Thurnau Professor; associate professor of mechanical engineering, CoE
Lutgarde Raskin, Vernon L. Snoeyink Distinguished University Professor; Altarum/Erim Russell O'Neal Professor of Engineering and professor of civil and environmental engineering, CoE
Sita Syal, assistant professor of mechanical engineering, CoE
MISA's Bold Challenges: Shaping the Future of Sustainable Aviation through Collaboration and Innovation
Gökçin Çınar, assistant professor of aerospace engineering, CoE
Jennifer Haverkamp, Graham Family Director of the Graham Sustainability Institute, clinical professor of public policy, Ford School; professor from practice, Law School
Max Li, assistant professor of aerospace engineering, CoE
The original article was written by Kelsey Keeves, Office of the Vice President for Research, and can be seen here.