Deans on the Hill
The Ford School joined U.S. Representative Joyce Beatty, then-chair of the Congressional Black Caucus, to bring together policy deans Celeste Watkins-Hayes, Trevor Brown (Ohio State), and Maria Cancian (Georgetown) to talk to  prospective students on Capitol Hill. Towsley Policymaker in Residence Hardy Vieux (MPP/JD '97) moderated the discussion.
---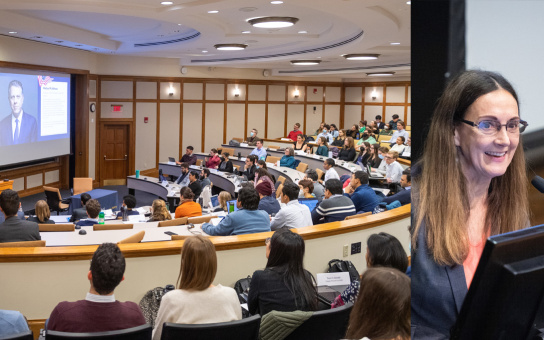 Speechwriting simulation
Former President Clinton's head speechwriter, Michael Waldman, inspired MPP students to practice policymaking and agenda setting as they simulated a U.S. State of the Union Address at the annual Integrated Policy Exercise (IPE) led by Elisabeth Gerber.
---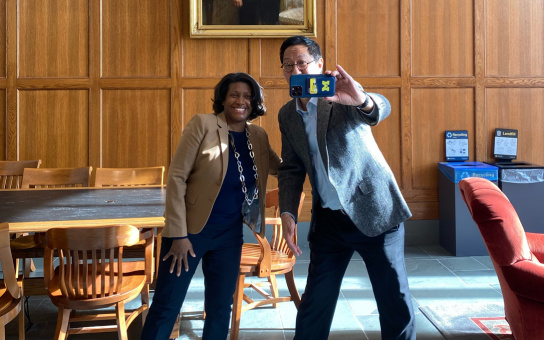 Presidential selfie
New U-M President Santa Ono stopped by Weill Hall to meet with faculty and snap a selfie with Dean Celeste Watkins-Hayes in front of President Ford's portrait.
---
A spring tradition continues
The 16th annual Gramlich Showcase filled The Becky with impressive student work on EU migration, housing, health assessments, and more.
---
Black perspectives in public policy
Program in Practical Policy Engagement's community engagement manager DeAndré J. Calvert moderated a discussion, Black Perspectives in Public Policy, with Patrick Wimberly, mayor of Inkster, MI; Alma Wheeler Smith, former Michigan state legislator; and Theodore Jones, Detroit Public Schools Community District project manager.
---
More in State & Hill
Below, find the full, formatted spring 2023 edition of State & Hill. Click here to return to the spring 2023 S&H homepage.