Young Leaders in Public Service with State Representative Kevin Coleman
Date & time
Oct 27, 2021, 11:30 am-12:30 pm EDT
Location
This is a Virtual Event.
Open to all Ford School students. 
Join P3E for a discussion with Michigan State Representative Kevin Coleman. 
About Our Speaker
State Rep. Kevin Coleman is serving his second term representing the 16th House District, which encompasses the city of Wayne and the majority of the city of Westland. He is a graduate of Western Michigan University, attended the Lee Honors College, and is a former member of the Westland City Council.
While on the Westland City Council, Coleman fought to provide additional resources and increase the number of much-needed public safety personnel in both the police and fire departments and increase government transparency. Coleman is dedicated to making sure that the government is providing the best service possible to the public and holding public officials to a high standard of ethics.
Prior to seeking public office, Coleman spent several years working in the community on the Westland Festival Committee and the Westland Veterans Association. As a state representative, he looks forward to continuing his work on public safety, criminal justice reform, and government transparency.
P3E's Young Leaders in Public Service series provides the opportunity for a small group of students to hear from and talk with elected officials and staff who will share their journeys, what led them to dedicate their lives to public service, and the skills that have helped them be successful.
Have any questions?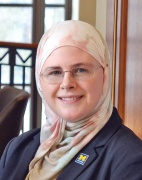 Administrative Coordinator/Project Coordinator, Weiser Diplomacy Center, Center for Local, State, and Urban Policy
Weill Hall
735 S. State St. #5246
Ann Arbor, MI, 48109
Contact