Young Leaders in Public Service with State Senator Jeremy Moss
Speaker
Senator Jeremy Moss
Date & time
Jan 25, 2021, 4:00-5:00 pm EST
Location
This is a Virtual Event.
Join the Program in Practical Policy Engagement for our first "Young Leaders in Public Service" discussion with Michigan State Senator Jeremy Moss, Assistant Democratic Leader.
The Young Leaders in Public Service series provides the opportunity for a small group of students to hear from and talk with elected officials and staff who will share their journeys, what led them to dedicating their lives to public service, and the skills that have helped them be successful. 
From the speaker's bio
Senator Jeremy Moss is serving his first term representing the 11th State Senate District in southern Oakland County.
Jeremy grew up in Southfield and attended Michigan State University. He participated in several student-led humanitarian aid missions in the US and around the globe, twice traveling to New Orleans in the aftermath of Hurricane Katrina to assist with cleanup efforts and spending time abroad in Uruguay to build housing in among the most impoverished areas of South America.

As a student, Jeremy studied in South Africa, completing a program on race relations. While there, he helped to build and establish Vumundzuku Bya-Vana Children's Center in the township of Zonkizizwe to assist at-risk children orphaned by HIV/AIDS. He returned home to earn a bachelor's degree in journalism with an additional major in political science and graduated from MSU with high honors.
In 2011, Jeremy successfully ran for a seat on the Southfield City Council and became the youngest-ever elected official in the city's history at age 25. Jeremy worked with his colleagues on City Council on policies that led to record investment in local road construction and consecutive years of declining crime.

Jeremy was elected to the Michigan House of Representatives in 2014 and served as the Democratic Whip. As an advocate for ethics and accountability, he worked across the aisle to pass ten bills in the House that would open up government records to public scrutiny by subjecting the governor's office and state legislature to the principles of the Freedom of Information Act.

He is continuing those efforts in the State Senate, while also working to restore the harsh cuts to local governments and school districts that have impacted the lives of working families, retirees, and students.

Jeremy is currently a board member of Congregation Beth Ahm in Oakland County and an advisory board member of the Martin Luther King Task Force in Southfield.
Have any questions?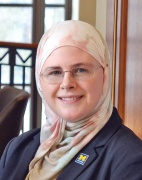 Administrative Coordinator/Project Coordinator, Weiser Diplomacy Center, Center for Local, State, and Urban Policy
Weill Hall
735 S. State St. #5246
Ann Arbor, MI, 48109
Contact