Housing instability, housing and neighborhood design, and healthcare: Intersections and future directions
Housing solutions speaker series
Speaker
Kim Rollings, Alfreda Rooks, Paula Lantz
Date & time
Feb 10, 2023, 12:00-1:00 pm EST
Location
This is a Virtual Event.
This event will highlight areas of overlap between the healthcare and housing sectors, including the cost of housing instability on the healthcare system, integration of health-promoting attributes in Low-Income Housing Tax Credit supported housing, and future directions for research and practice.
Speakers:
Kim Rollings, Health and Design Research Fellow, Institute for Healthcare Policy and Innovation
Paula Lantz, James B. Hudak Professor of Health Policy, Gerald R. Ford School of Public Policy
Alfreda Rooks, Director of Community Health Service, Michigan Medicine
Have any questions?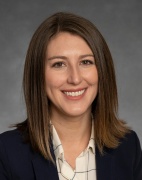 Senior Communications Specialist, Poverty Solutions
Weill Hall
735 S. State St. #5115
Ann Arbor, MI, 48109
Contact