What the best-dressed ideas wear to Lansing's policy Oscars: If the State of the State is Lansing's policy Oscars, where does an idea go to rent a tux?
Speaker
Rick Pluta/Michigan Public Radio Network & Zoe Clark/ Michigan Radio
Date & time
Jan 25, 2016, 11:30 am-1:00 pm EST
Location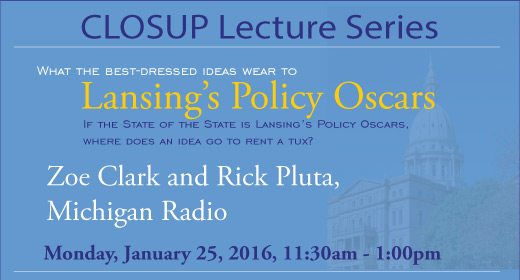 Free and open to the public (pizza lunch provided 11:30am, lecture begins promptly at 11:45am)
Description: On January 19th, Governor Snyder delivers his 6th State of the State address. And, for lawmakers, lobbyists, and interest groups, the annual speech is the opportunity to create a red carpet moment for their policy goals. So, what does it take to get there? It's Just Politics co-hosts Zoe Clark (of Michigan Radio) and Rick Pluta (of the Michigan Public Radio Network) will talk about the marketing, the relationship-building, the polling, and the background research that's needed to push some issues past the competing interests to get that rare, valuable mention as the governor sets his agenda for the year.
Rick Pluta, Managing Editor and State Capitol Bureau Chief, Michigan Public Radio Network
Rick Pluta has been the managing editor and state Capitol bureau chief since 1996. His beats include the Legislature and courts, as well as environmental and legal issues. Pluta has covered the Michigan Capitol since 1987. His radio work has aired on "Morning Edition," "All Things Considered," "Marketplace," "Marketplace Money," "Justice Talking," and "Soundprint."

Before joining MPRN, he covered the Capitol for WJR-AM in Detroit, The Oakland Press, and United Press International. His first full-time news job was with The Elizabeth (N.J.) Daily Journal. He has also written for The Chicago Tribune, The Toledo Blade, and some magazines and specialty publications. He is a lousy guitar player and an excellent parallel parker. 
Zoe Clark, Executive Producer, Michigan Radio Zoe Clark is the Executive Producer of Michigan Radio's daily news magazine Stateside with Cynthia Canty. Clark is also the co-host of It's Just Politics a weekly look at Michigan politics airing Monday mornings on Morning Edition. Clark oversees Michigan Radio's local interviews, including those by All Things Considered host Jennifer White and Morning Edition host Christina Shockley. She is also a substitute on-air host.
Clark began her collegiate studies at George Washington University in Washington, D.C. She holds degrees in Communication Studies and Political Science from the University of Michigan and lives in Ann Arbor, where she was born and raised.
Sponsored by: 
University of Michigan Center for Local, State, and Urban Policy (CLOSUP)

Co-Sponsors:
University of Michigan Department of Political Science
University of Michigan Communication Studies