HAIL YEAH! Student day of thanks
Date & time
Mar 14, 2018, 9:30-11:30 am EDT
Location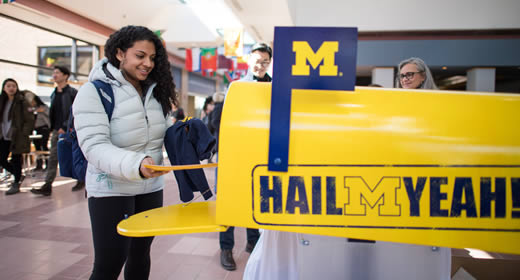 On Wednesday, March 14th, the university will be celebrating Hail Yeah!, our student day of thanks. During this event, students will write a thank you postcard to one of the 10,000+ alumni who gave $50 or less to the university in order to enhance YOUR Michigan experience. Hail Yeah! will take place all around campus. We hope you'll join us on this day.
The Ford School will be holding our event in the Great Hall from 9:30 am to 11:30 am. Students who sign a postcard will receive a free Hail Yeah! t-shirt while they last! 
Come thank an alum, get a t-shirt, and celebrate the impact all gifts have on our university. Does every gift matter? Hail Yeah!