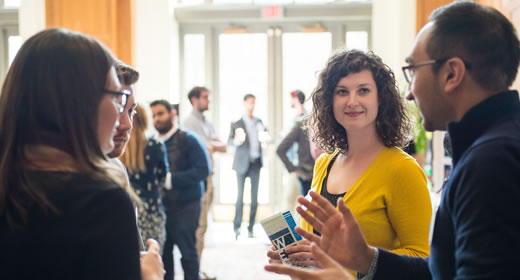 Nearly 200 Ford School and campus community members visited the school on March 12 as graduate and undergraduate students presented poster versions of some of the most exceptional student research and policy work completed over the past year.

Ford School faculty nominated students to participate in the Gramlich Showcase of Student Work. The posters on display represented a wide range of student work: from local issues to foreign policy, from social welfare policy to health care reform, from undergraduate work to dissertation research. Students were on hand to describe their projects and answer questions from Showcase attendees.

This annual event is named for long-time U-M faculty member and former Federal Reserve Board Governor Ned Gramlich, as a tribute to his belief in and commitment to the value of a public policy education. Ned was the first dean of the School of Public Policy and served as interim provost of the University.

"So much of what Ned Gramlich did to help build the Ford School was motivated by his commitment to the value of a public policy education," says Susan Collins, the Joan and Sanford Weill Dean of Public Policy. "I know he was extremely proud of the intellectual achievements of our students and a showcase of student work seems like a particularly appropriate way to honor him."