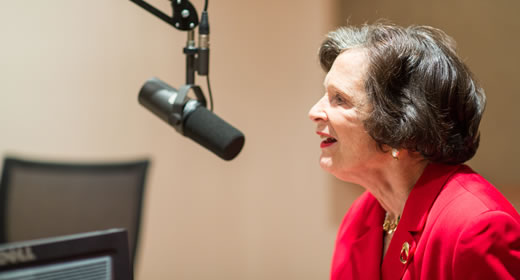 Marina v.N. Whitman has been selected as a member of the 2013 class of the Michigan Women's Hall of Fame. Honorees are chosen based on their service and accomplishments which have significantly advanced the status of women.

Whitman was selected for being a leader during a generational transition for women in business. She served as the first woman on the Council of Economic Advisers under President Nixon and then as a leading executive at General Motors. Last year, Whitman published an acclaimed memoir, "The Martian's Daughter," about the influence of her father, renowned mathematician John von Neumann, on her life and career.

The Hall of Fame was established in 1983 by the Michigan Women's Studies Association (MWSA). It was created to celebrate Michigan women's history, promote educational opportunities, and honor the accomplishments of Michigan women. Honorees must either have been born in Michigan, achieved prominence within the state, or been a resident of the state for an extended period. In the past 30 years, over 260 pioneering women have been inducted, including former First Lady Betty Ford.

Whitman and the other inductees will be honored at the 30th Annual Awards Dinner on October 17th.