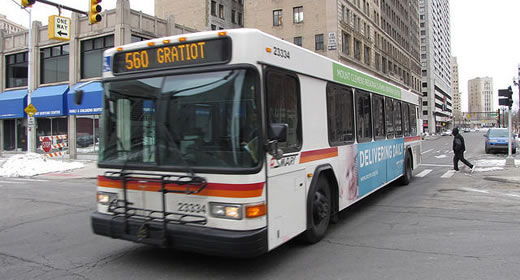 RTA Board representative Elisabeth R. Gerber sees the possibilities transit can offer for Southeast Michigan-and for the region's hardest hit city

Getting from Detroit to Ann Arbor is a trip in more ways than one. The two cities are 43 miles apart. But the expense and inconvenience of driving deters many from making the trip. Trains and buses run daily, but the schedules are slim and the costs prohibitive for the average commuter.

More than half of the state's population resides in southeast Michigan, yet the Detroit metropolitan area remains one of the largest in the country without a regional transportation system.

Hopefully, that won't be true for much longer. In December 2012, the state legislature passed a package of bills authorizing a Regional Transit Authority (RTA) in southeast Michigan, covering Macomb, Oakland, Washtenaw, and Wayne counties.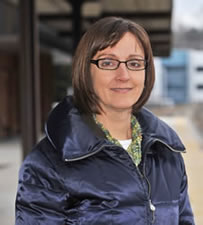 Elisabeth R. Gerber
But there's a long road ahead before the RTA evolves into actionable policies and an integrated transportation system. Elisabeth R. Gerber, recently named the Jack L. Walker, Jr. Professor of Public Policy, has spent more than a decade researching economic development, regional governance, and transportation policy. And, in April 2013 she will begin a three-year term representing Washtenaw County on the new Southeast Michigan Regional Transit Authority Board. "The way I like to conduct my own research is simultaneously as an academic scholar and as a practitioner," explains Gerber. "I think [the applied approach] has made my academic work so much better," she says. "I've spent a lot of time trying to understand the very diverse perspectives of the many stakeholders who are involved in these issues."

Gerber served as the first director of the Center for Local, State, and Urban Policy (CLOSUP), and regularly teaches the Ford School's "Applied Policy Seminar." In January, Gerber led her fourth Integrated Policy Exercise" (IPE), a policy simulation in which master's students take on the roles of stakeholders—such as legislators, journalists, and community representatives— engaged in a contemporary issue. She selected regional transit as the IPE's focus last summer, when the RTA bills were pending in the legislature. "I started working on it and talking to people and trying to figure out, 'Is this thing going to pass?' Of course, everyone said no. So I said, 'Whew! Okay, that's a safe one; I won't have to change my scenario mid-course,' which we did anyway," she says, chuckling.

As it turned out, Governor Rick Snyder signed the RTA into law a mere month before the IPE began—which certainly amped up its authenticity So did the thirty-three stakeholders and decisionmakers Gerber successfully invited to attend.

"All of the problems of regional governance come to a head in transportation policy. Organizing the IPE around this issue brought me into close contact with the people who are immediately involved right now in regional transportation at the state, local, county, and metropolitan levels," she observes. "My goal on the RTA board is to advance and promote simultaneously Washtenaw County's interests and the broader region's interests and try to help find ways that the RTA can help Washtenaw County and Washtenaw County can help the RTA. A big part of that is knowing who our stakeholders are, what roles they play, and what their different pieces are in the big puzzle."

Which way forward for cities?

The board is a ten-member decision-making body for the RTA, with mandates to integrate existing transit across the four-county region and establish new cross-county transit corridors. Another key issue will be to find an answer to the controversial question: rail, rolling transit (buses), or both?

Even before the RTA legislation passed, the Washtenaw County Commission urged the state to omit Washtenaw from the RTA. And immediately after the RTA was authorized, Ann Arbor City Council passed a unanimous resolution objecting to the county's inclusion. According to Gerber, the council and commission are still in discussions. But the concerns for some—that rolling rapid transit in new corridors might come at the expense of rail, as well as the highly functioning Ann Arbor Transit Authority (AATA)—are real.

Ann Arbor Mayor John Hieftje teaches local government at the Ford School and has worked on the issue of regional transit for more than a decade. He doubts that rail will be likely with the RTA legislation as written. "There are over 10,000 U-M employees who live along the east/west rail line. And yet this bill makes the commuter rail option the region has been working on for many years all but impossible," says Hieftje.

"That said," he adds, "I have great confidence in Prof. Gerber's abilities to steer this in a good direction while protecting the excellent asset we have in the AATA."

Indeed, Washtenaw County has one of the best transit systems in the region. Gerber notes, however, that the real beneficiary of a new transportation system in southeast Michigan will be metro Detroit. "Part of what the RTA is going to have to do is improve [Detroit's] planning processes, their funding processes, and the way their services are integrated. That's really the primary goal of the RTA. If we can do that, we're a success."

She explains that the whole idea of a regional transportation system is to connect urban areas to each other, which expands and enhances everything from business development to economic opportunities for residents. "A regional transit system makes cities bigger. If you make it easier for people to get around, then that enhanced size becomes more real for more people. All of a sudden, my opportunities aren't just here in Ann Arbor. All of a sudden, my world gets bigger."
---
Below is a formatted version of this article from State & Hill, the magazine of the Ford School. View the entire Spring 2013 State & Hill here.