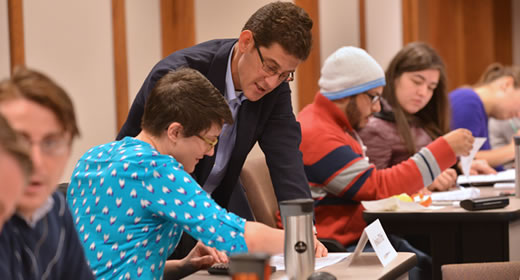 Brian Jacob has been awarded a $98,487 grant from the Spencer Foundation to study the effectiveness of No Child Left Behind waiver-related reform programs on schools across the country. The study is titled School Reforms and Educational Inequality? Regression-Discontinuity Evidence from NCLB Waivers.
   
When No Child Left Behind was introduced at the beginning of the first George W. Bush administration, it included a requirement that all students in the country meet their state's proficiency standards by 2013-14. With those standards still not met, the Department of Education has begun offering waivers to each state. These waivers release states from the deadline if they implement a department-designed reform plan.
One common feature of each reform plan is that states must designate "Priority Schools" (chronically underperforming schools) and "Focus Schools" (schools with the largest achievement gaps). These schools will receive federal aid from the Department of Education in the form of several different grants for reform programs.
Jacob and the other researchers on the team, which includes Thomas Dee of Stanford University and Steve Hemelt of University of North Carolina-Chapel Hill, will use the Spencer Foundation grant to study the effects of these reform programs in several states around the country.
   
Brian Jacob is the Walter H. Annenberg Professor of Education Policy at the Ford School and co-director of the school's Education Policy Initiative (EPI). His recent research focuses on charter school effectiveness, gender gaps in academic performance, and other areas critical to American education reform.