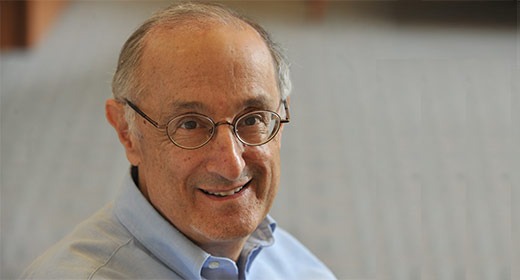 Of the 487 National Medals of Science bestowed since the award's creation in 1959, less than two dozen have been offered to social and behavioral scientists. Robert Axelrod, the Walgreen Professor for the Study of Human Understanding, will soon be among that elite group. Axelrod is the first political scientist to win this award--our nation's highest honor for scientific achievement--in more than a quarter-century.

Axelrod, a professor of public policy and political science at the University of Michigan, is best known for Cooperation Theory, and his paradigm-shifting contributions to our understanding of conflict and cooperation. His current research focuses on international security and sense-making. 

Axelrod is currently on a one-year leave to serve as a Jefferson Science Fellow at the U.S. Department of State. Following his year of service, he will return to the Ford School, where he has taught since 1974. 

The White House announced the new class of recipients of the National Medal of Science and National Medal of Technology and Innovation earlier today. 

"These scholars and innovators have expanded our understanding of the world, made invaluable contributions to their fields, and helped improve countless lives," President Obama said. "Our nation has been enriched by their achievements, and by all the scientists and technologists across America dedicated to discovery, inquiry, and invention."

"Bob Axelrod's work on the evolution of cooperation has done a great deal to rebuild the thinking world's faith in the power of cooperation," said Susan M. Collins, Joan and Sanford Weill Dean of Public Policy at the Ford School. "We hope this well-deserved honor draws much more attention to his game-changing discoveries."

The new awardees will receive their medals at a White House ceremony later this year.
Read the full White House announcement here.
Robert Axelrod is the author of The Evolution of Cooperation, The Complexity of Cooperation, and Harnessing Complexity (with Michael D. Cohen). His recent work focuses on how people (especially political elites) make sense out of novel situations. He draws from a wide range of disciplines, including evolutionary biology, psychology, and artificial intelligence. He also has long term interests in international security affairs including cyber issues and Middle East politics. Axelrod is a member of the National Academy of Sciences, a MacArthur Prize Fellow (1987), and a recipient of the Johan Skytte Prize in Political Science (2013).