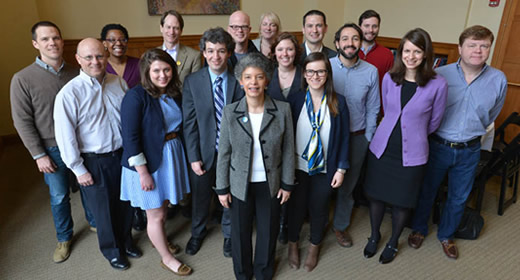 The Ford School Alumni Board is now accepting nominations to fill six open seats: five reserved for master's or doctoral alumni and one reserved for an alum of the bachelor's program. All seats have three-year terms. Interested alumni should submit a self-nomination online. Online voting will take place Oct. 21 - Nov. 3.
What is the Alumni Board? The Alumni Board is comprised of eighteen alumni and two student representatives who support a variety of Ford School activities including career services, student recruitment, and fundraising (see board roles and activities). In recent years, Alumni Board members organized Worldwide Ford School Spirit Day events, provided feedback on the school's new website design, supported student internships, and conducted mock interviews, resume reviews, and office hours with current students.

What are the Board responsibilities? Board members serve as the "goodwill ambassadors" of the Ford School, remaining available as a resource to staff and students throughout the year. Also, board members are expected to serve on at least one of the Alumni Board committees (alumni engagement/visibility, elections/nominations, fundraising, and student engagement) and support Alumni Board giving initiatives for Ford School students. Additionally, members are expected to attend meetings twice a year in Ann Arbor, once in the fall and another time in the spring. Members cover their own travel expenses for meetings, but these travel expenses are tax-deductible as a service to the school.

What expertise and experience does the Alumni Board need? The Ford School looks for enthusiastic leaders from a variety of policy fields and graduation years to join the Alumni Board. A highly functioning board is comprised of board members who are available, responsive, and engaged.

Who is eligible to serve on the Alumni Board? Candidates must have a minimum of two years of professional work experience, as determined by the nominations committee, prior to the nomination deadline.

Need additional information about board activities and responsibilities? Contact Alumni Board nominations/elections co-chairs Peter Fritz (at pfritz@gmail.com) or Keith Fudge (at keithlfudge@gmail.com) with your questions. You may also contact the Ford School's alumni relations manager, Elisabeth Johnston (at eajohnst@umich.edu).