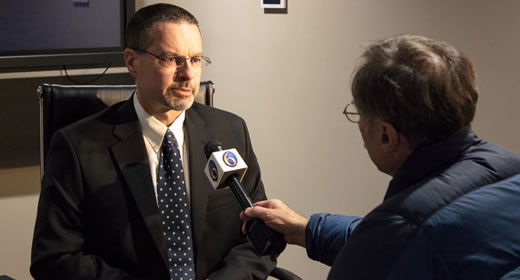 A recent CLOSUP report presenting the opinions of Michigan local government leaders on the state of roads was cited by the Associated Press, Detroit Free Press, and other media outlets.
Most of the media coverage focused on the fact that while 79 percent of Michigan's municipal leaders say road funding needs a major boost, there is a lack of consensus on how best to proceed. 
Tom Ivacko, CLOSUP administrator and program manager, and Sarah Mills, a CLOSUP project manager, were both cited in the Free Press's coverage, "Michigan cities tepid on sales tax hike for roads." 
Mills also discussed the survey's findings in a radio interview (audio here) on "Current State," WKAR Radio's daily news show (WKAR is East Lansing's public media station).
For more information about the survey, read the press release by Greta Guest.  Photos from the press conference can be viewed on the Ford School Flickr page.
The Center for Local, State, and Urban Policy (CLOSUP), housed within the Ford School of Public Policy, conducts applied academic research to inform local, state, and urban policy issues. CLOSUP functions as an information resource for policymakers and practitioners, academics, students, the media, and the public.