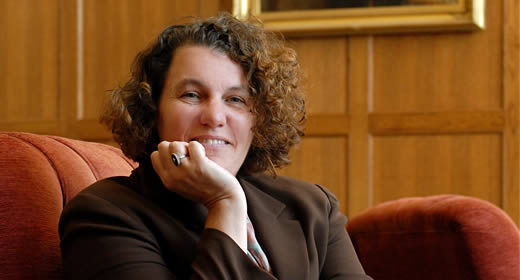 Professor Susan Dynarski has been named a recipient of the "Public Service Matters" Spotlight Award by the Network of Schools of Public Policy, Affairs, and Administration (NASPAA) for her ongoing work on college affordability and student debt. Honorees are reviewed and chosen "for outstanding contributions toward solving public sector problems."
Dynarski, who was also recently recognized by Michigan Governor Rick Snyder for her contributions to the University of Michigan HAIL Scholarship, has long advocated making higher education more accessible by lowering or removing barriers at multiple stages of the process from application to enrollment. Her goal: policy amendments designed to make higher education more accessible for low-income and first-generation college students. She has continued to mount a vigorous case for reducing the length of the FAFSA, the controversial and lengthy form required to assess financial need. More recently, in a New York Times Upshot article, Dynarski recommended eliminating the form altogether.
In a letter of support for Dynarski's NASPAA recognition, Dean Susan M. Collins said, "Susan has testified before Congress on multiple occasions, participated in countless conference calls with policymakers, and met repeatedly with financial aid administrators from around the country." She added, "it is, in no small part, due to Susan Dynarski's scholarship and direct policy engagement that reforms to our financial aid system are already being made."
Her award was announced at the 2015 NASPAA Annual Conference, hosted this year in New York City.
Susan Dynarski is a professor of public policy at the Gerald R. Ford School of Public Policy, a professor of education at the University of Michigan's School of Education, and a professor of economics at the University of Michigan's College of Literature, Science, and the Arts. She is co-founder and co-director of the Ford School's Education Policy Initiative, which engages in applied, policy-relevant research designed to improve educational achievement and outcomes.