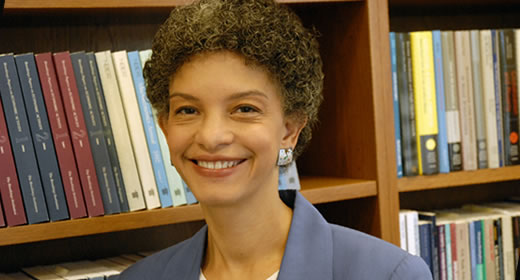 When we last sent 'the feed,' we were counting down to the school's Centennial Reunion festivities. A good deal has happened since then—at our school and in the world. Much of this you'll read about in this issue.
Our centennial celebrations were tremendous, of course. We toasted our next century, reconnected with many, many alumni, and celebrated our legacy as America's first graduate level training program for aspiring public servants with hundreds of alumni, students, faculty, staff, and friends.
I was particularly touched by the outpouring of support we received from volunteers in the year leading up to our centennial. Our Centennial Reunion volunteers did a terrific job of helping us promote the festivities. Our Alumni Board has been raising the visibility of the school within policymaking circles. And our Ford School Committee has been helping us promote and increase private philanthropic support for the school's students and work.
In fact, during our centennial weekend longtime Ford School Committee member Jim Hackett (BGS '77) was appointed to the post of interim athletic director for the University of Michigan, and there's a good deal of excitement around here—a small understatement—about his recruitment of former Wolverine quarterback and San Francisco 49ers head coach Jim Harbaugh (BA '86) to coach the Wolverines.
Of course, Jim Hackett is also co-chairing the Ford School's next century campaign to invest in student fellowships and internships, game-changing faculty research, and enhanced policy engagement. We're delighted to have his help with those vital activities, as well.
Election Day followed quickly on the heels of our centennial, and we're proud to announce that a number of Ford School alumni and friends won their campaign bids in the November elections, including 2011 Bohnett Fellow Stephanie Chang (MPP/MSW '14) who is making history as the first Asian American woman in the Michigan Legislature. Chang will represent southwestern Detroit's District 6.
Later in November, President Barack Obama awarded Professor Robert Axelrod the National Medal of Science during a formal ceremony in Washington, DC. For those of you in the DC area, you can connect or reconnect with Bob Axelrod at our February 5 alumni reception/student networking event. He will be giving this year's keynote lecture.
And in early December, Professor Susan Dynarski and alumna Brandy Johnson (MPP '09) traveled to DC to participate in the White House College Opportunity Day of Action. Dynarski through her game-changing research and policy engagement, and Johnson through her role as executive director of the Michigan College Access Network, are working to enhance college access for low-income students in the state of Michigan and across the nation.
Amid all of this activity, though, the event that has been at the forefront of my mind is a small school dialogue, open only to Ford School students, faculty, and staff, that we hosted in mid-December. In the wake of the tragic deaths of Michael Brown and Eric Garner, and the grand jury indictments that never materialized, we gathered to talk about race and police brutality. I can't break confidence and share the powerful disclosures of that day, but I can say that we're determined to continue and broaden the conversation, and are connecting with faculty and student leaders to plan future initiatives. It was a reminder to me of what an extraordinary community the Ford School is.  
In the meantime, I'm pleased to announce four terrific events on police brutality, race in America, American denial, and community health empowerment that the Ford School is hosting this month as part of the University of Michigan's Dr. Martin Luther King, Jr. Symposium. A number of these will be live-streamed, and you are welcome and encouraged to watch online and to join these important conversations on Twitter using the hashtag #policytalks.
Sincerely,
Susan M. Collins
Joan and Sanford Weill Dean of Public Policy
View the entire January 2015 edition of "The Ford School Feed"