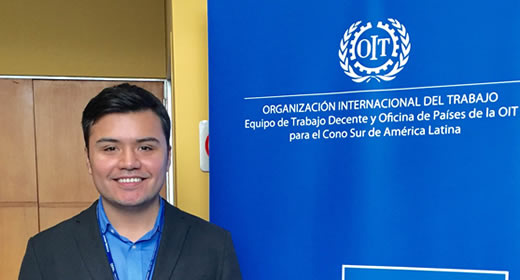 Eduardo García (MPP '17) offers this field report from Santiago, Chile where he's working at the intersection of labor, migration, and human rights issues with the International Labor Organization's Country Office for the South Cone of Latin America.
Q. WHAT IS THE INTERNATIONAL LABOR ORGANIZATION, AND WHAT DOES IT DO?
In a nutshell, the International Labor Organization (ILO) is a United Nations agency that brings together governments, employers, and workers' representatives from 187 member-states to set labor standards, based on international human rights, that promote decent work for all women and men.
I'm based in the Country Office for the Southern Cone of Latin America, which fulfills the ILO's mission in Chile, Paraguay, and Uruguay, while providing technical assistance to ILO offices in Argentina and Brazil.
Q. WHAT PROJECTS ARE YOU WORKING ON THERE?
I am a part of the technical assistance team, which supports the Chilean government as it works to institutionalize best practices that address migrant workers' issues. In recent years, there has been significant growth in the country's migrant labor force. This has raised new challenges for government in ensuring all workers have equal access to their rights in the workplace.
Early in the internship I helped organize a workshop for over 60 Labor Department officials to analyze and discuss the national challenges facing foreign-born workers in the labor market. Their anecdotes will be included in a report that will summarize key findings from a survey of over 100 Labor Department officers across 20 department units,. The report will also provide recommendations to improve migrant workers' access to crucial government services. Currently, I am flexing my policy analysis skills and providing research assistance in the production of this report.  
Q. HOW IS THIS INTERNSHIP EXPERIENCE SERVING YOUR PROFESSIONAL GOALS?
Prior to Ford, I worked on domestic policy related to immigrant and workers' rights for five years. I see this internship as an opportunity to expand my knowledge of these topics from an international context, and with a regional focus on Latin America. It's also a great excuse to develop my Spanish-language policy communication skills, which will be crucial to working in my professional fields of interest.  
Another personal goal was to grow my understanding of how the United Nations brings together government, employers, and workers around a shared objective, which has been really exciting to observe. These actors are not just stakeholders, they shape and bring valuable insight to public policy solutions because of the collaborative work fostered by organizations like the ILO.  
Q. HIGHLIGHTS FROM YOUR TIME IN CHILE?
Outside of work, some of my favorite experiences include touring the presidential palace, La Moneda, for this year's Cultural Heritage Day; going on a road trip with friends to the beautiful Aracaunía region in the south to hike and explore nature; and tasting cordero al palo for the first time (so delicious!). Also—getting to witness the enthusiasm of soccer fans when Chile's national team won the Copa America tournament for the second consecutive year was pretty exciting! 
---
Eduardo Garcia holds a bachelor's degree in American studies and psychology from California State University-Fullerton. He is a Public Policy and International Affairs Fellowship alumnus (University of California-Berkeley) and a New Leader with the Center for Progressive Leadership. He is interested in international human rights, labor rights, and immigration issues. 
Garcia's internship with the International Labor Organization was made possible through support from the Katherine Terrell Svejnar Endowed Fund for International Education and Ford School class gift contributions.