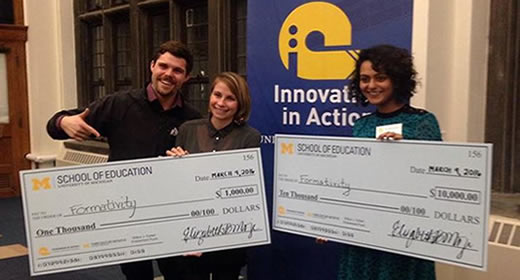 On March 9, Megan Blair (MPP '16) led team "Formativity" to a victory in the U-M School of Public Health's annual Innovation in Action competition.
Innovation in Action is a five-month competition that gives multidisciplinary teams an opportunity to build skills in entrepreneruship while designing a new innovation in either public health or education. 
Blair's group won $10,000 to further develop Formativity, a web-based app designed to improve the frequency and quality of formative assessments in early-learning environments. 
Blair's team included Jeff Stern from the School of Information, Sania Zaidi from the School of Education, and Brandon Patterson, a dual degree student with the School of Education and School of Information.