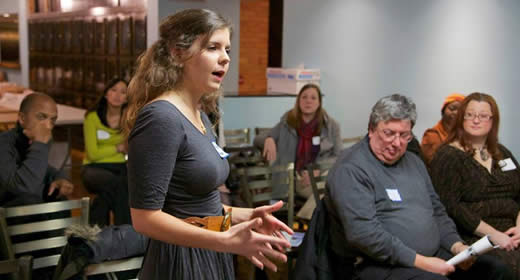 ---
Mary Naoum (MPP/MSW '18) is submitting this field report from her summer 2017 internship at the Detroit Mayor's Office of Immigrant Affairs (MOIA).
---
This summer, I interned for the Detroit Mayor's Office of Immigrant Affairs (MOIA). As the world faces one of the largest displacement crises of our lifetime, it was an honor to work in the MOIA, which partners with local resettlement agencies to encourage refugee resettlement in Detroit. To ensure recently resettled families are adequately supported in their transition, the MOIA also facilitates social service provisions through collaboration with local nonprofits.
In addition to encouraging refugee resettlement in the city, the MOIA supports Detroit's longer-term immigrant communities through economic and neighborhood development initiatives. As leaders across the U.S. herald Detroit's "renaissance", language and cultural barriers make it difficult for Detroit's immigrant communities to use the city's newly acquired development resources. As a resident of Southwest Detroit, which is home to sizeable Latino and Arab immigrant communities, I have witnessed how development opportunities bypass thousands of longstanding business owners in the city. To increase immigrant communities' access to these new resources, the MOIA leverages its connection to city officials and resources to better support community-led housing and economic development initiatives in immigrant neighborhoods.
As a David Bohnett Leadership and Public Service Fellow, I was able to secure my internship with the MOIA early. Within a week of starting, I jumped into office initiatives related to refugee community integration and immigrant-owned small business development. First, I facilitated the expansion of the MOIA's Welcoming Liaison Program (WLP), a refugee community integration program in partnership with local universities and resettlement agencies. Through my efforts this summer, the WLP is now an institutionalized and community-driven program with local partners at the University of Michigan-Dearborn and at Wayne State University.
Additionally, I represented the MOIA as a member of El Comité, a coalition of Spanish-speaking small business support organizations. In this capacity, I developed a sustainability handbook for the coalition to continue its support for Spanish-speaking entrepreneurs in Southwest Detroit. As a dual-degree candidate in the School of Social Work studying community organizing, it felt empowering to work alongside community groups and advance their grassroots efforts through my role as a city representative. Being positioned between communities and bureaucracy allowed me to exercise skills in policy advocacy and implementation, which is exactly what I hoped to achieve through my Ford School internship.
An unexpected and pleasant surprise was working among other Ford School Bohnett Public Service Fellows, past and present. Because the MOIA is housed in the Department of Housing & Revitalization, I worked alongside Mariah Van Ermen, another 2017 Bohnett Fellow who interned in the Office of Sustainability, and Betsy Palazzola and Julie Schneider, the Ford School's inaugural Bohnett Public Service Fellows. It was wonderful to build relationships with Ford alumni who are having an impact in Detroit. After I graduate this December, I look forward to leveraging my education through the Ford School and School of Social Work to foster sustainable growth in the city I call home.
---
Mary Naoum (MPP/MSW '18) is a dual-degree student in social work and public policy with a background in youth and community arts empowerment. She has served as the southeast Michigan outreach coordinator for the Citizen's Alliance on Prisons and Public Spending and as a social work intern for State Representative Stephanie Chang's district service center, where she developed and facilitated a political leadership program to inspire high school girls to pursue careers in civic engagement and public office. Her professional interests include youth development, corrections reform, and policymaking for equitable community development.
Naoum's internship with the City of Detroit was made possible through generous support from David Bohnett (MBA '80) and the David Bohnett Foundation.