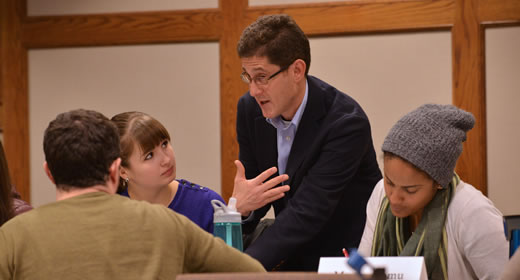 In his most recent report for the Brookings Institution, Brian Jacob highlights the many advantages of support programs for community college students, with data showing a profound impact on students receiving these interventions.
Jacob's piece, "Building knowledge to improve degree completion in community colleges," provides a grim glimpse into the life of community college students. "Only 20 percent of students who enroll in community college will earn a degree within 3 years," writes Jacob. "Community college students must juggle work, school and family responsibilities to a greater extent than most traditional four-year college students. This exacerbates academic challenges and makes even small, unexpected expenses difficult to manage."
Jacob points to the City University of New York's (CUNY) Accelerated Study in Associate Programs (ASAP) as an example of an exemplary intervention. ASAP mandates their students enroll full-time in an associate degree program, but these students are granted free tuition and textbooks, streamlined access to the city's buses and subways, frequent, personalized advising and tutoring, and attend classes in cohorts "designed to provide a sense of community." ASAP nearly doubled the program's three-year graduation rate, rising from 22 percent to 40 percent.
ASAP's success in New York led to testing in three Ohio community colleges, where it was modified to serve Ohio's distinct student population. Early results from this testing have also been positive: "81.7 percent of program students were still enrolled in college compared with only 69.7 percent of control students, a difference of 12 percentage points." ASAP's success and proof of replicability has proven inspirational to states nationwide, and their model is being further evaluated for replication in California and across New York State.
For schools incapable of reproducing this specific model, however, hope remains that there are "other ways to provide comprehensive supports to students."
Jacob highlights the Detroit Promise Path, an intervention program supporting students receiving the Detroit Promise scholarship. Operated by the Detroit Regional Chamber — with developmental assistance from MRDC — the Detroit Promise Path pairs students with coaches who "help students navigate a wide range of challenges they may face, ranging from financial hardship to academic difficulty to feelings of isolation." Unlike ASAP, the Detroit Promise Path does not operate directly out of the schools, but out of the Detroit Regional Chamber itself. Nonetheless, coaches are familiar with each of the schools so they can easily refer them to the available campus resources.
Results from this intervention have also been positive: "In their second semester, roughly 60 percent of program students were still enrolled in college compared with only 49 percent of control students," writes Jacob. "The difference in full-time enrollment was even larger."
Jacob recommends the adoption and replication of similar intervention programs for community college students. Having enumerated the benefits of these programs and the added economic benefit of earning an associate degree, Jacob sees these interventions as beneficial to both student and colleges, as each program appears quite cost-effective. Nonetheless, the dramatic growth of college Promise programs across the country has increased a need for supports that benefit low-income community college students, and successful models like ASAP and Detroit Promise Path, in Jacob's words, "provide a good example of one path forward."
—By Larry Sanders (MPP '18)