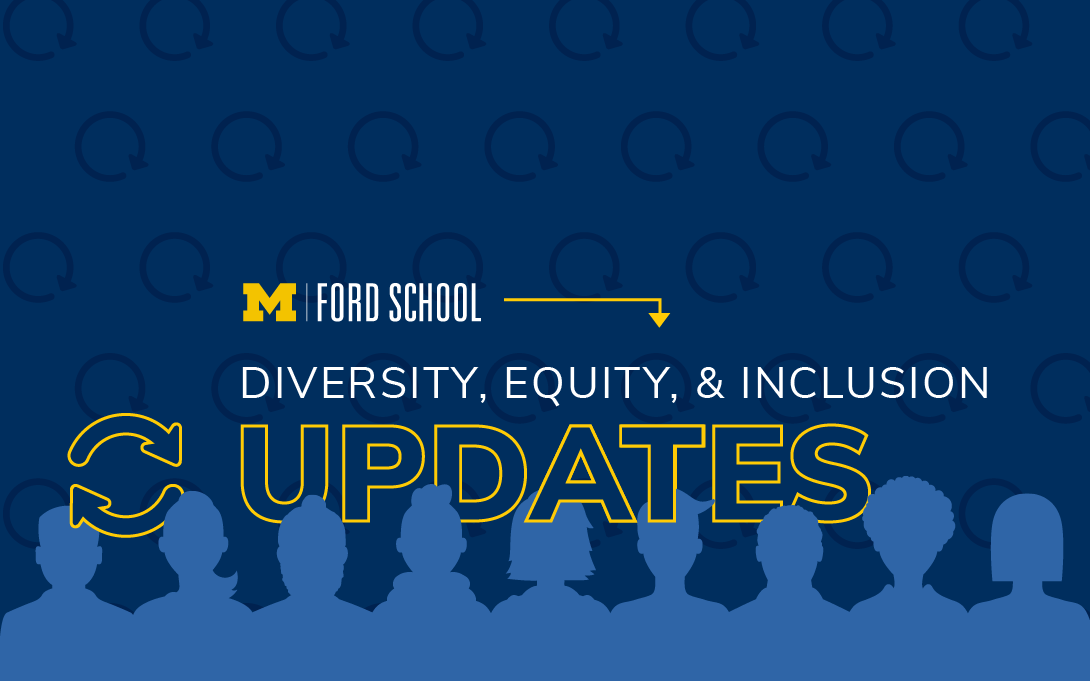 UPCOMING EVENTS

Critical Race Theory Discussion Series
With Faculty Discussant Clifford Lampe
Friday, November 2 | 11:45 am - 12:50 pm | 1120 Weill Hall
Clifford Lampe, professor in the School of Information, will facilitate the third installation of the Critical Race Theory Discussion Series on "Big Data, Incivility, and Social Media. Click here for more information. Lunch will be served!

Veterans Week (November 5 - 9)
The University of Michigan is proud to offer a week of events that educate and celebrate the experiences and sacrifices of those who have served our country. All events are free and are open to the entire university community and to the general public. We encourage you to attend as many of these events as you can. View the complete schedule.
Film Screening of Almost Sunrise
Wednesday, November 7 | 4:00 - 6:00 pm | Annenberg Auditorium
In an attempt to put haunting combat experiences behind them, two friends embark on an epic 2,700-mile trek on foot across America, seeking redemption and healing as a way to close the moral chasm opened by war. Almost Sunrise is an intimate, vérité film that eschews stereotypes and instead captures an unprecedented portrait of veterans - one of hope, potential and untold possibilities.
 
ROTC Flag Raising and Flag Lowering
Friday, November 9 | 8:00 am/5:00 pm | Law Quad Flagpole
 
The U.S. at "endless war": Public policy and those who serve
Monday, November 12 | 4:00 - 5:20 pm | Weill Hall 1110 (Betty Ford Classroom)
Ford School faculty, students, and staff (along with the general public) are warmly invited to join this community event as we celebrate Veterans Day and explore issues at the intersection of public policy and military service. Panelists and audience members will discuss issues such as: what are the cascading effects of policy decisions on active duty folks, national guard members, and their families? When policies change at the top level, what are the impacts on those who are serving?

And what should future policy leaders understand about veterans' issues--transition to civilian life, workforce/employment issues, mental health and substance abuse, demographic trends in the composition of the veteran population, the future and long-term sustainability of Veterans Affairs, etc?

Panelists:

U.S. Army Captain Heath Bergmann (MPP '19), Masters of Public Policy student at the Ford School.

Jan Malaikal, Chief administrator for LSA Chemistry, retired U.S. Army officer. MA, Naval War College

Troy Nienberg(BA '05, JD '08), legislative director for U.S. Rep Dan Kildee (Flint), current Air National Guard officer and HH-60 Combat Rescue Pilot.

Dinner from Chela's Restaurant & Taqueria will be served. Please RSVP here: https://goo.gl/forms/wnJqY5GVZTxAFmV92.
 
Alt-Association: The Role of Law in Combating Extremism
A Special Issue Symposium by the University of Michigan Journal of Law Reform, Vol. 52

Saturday, November 17 | 9:00 - 7:00 pm | University of Michigan Law School South Hall (701 S. State Street)

Alt-Association aims to offer insight into the ways extremist organizations operate in society and to determine appropriate mechanisms for responding to association with those groups. This Symposium is intended to provide an overview of the legal mechanisms and challenges in responding to extremist organizations, as well as an opportunity to participate in a Design Jam, where interdisciplinary teams will design innovative methods to combat extremism in our communities. Alt-Association is a free event and open to the public. Please visit our website to view the full schedule of events and to RSVP. If you would like a chance to participate in the Design Jam, be sure to RSVP by November 10th. We can't wait to see you and your ideas there.
Nanette: Film Screening and Discussion
Sponsored by Out in Public, Women and Gender in Public Policy, and Global Fordies
Thursday, November 29 | 5:00 - 6:30 pm | Annenberg Auditorium
Join us for a screening and discussion of Nanette the Netflix special in which Australian comedian Hannah Gadsby blends comedy and socio-cultural-political critique to discuss what it means to be a queer woman in the entertainment world. A brief discussion (with snacks!) will follow the screening from 6:00-6:30 pm.
ANNOUNCEMENTS
November is Native American Heritage Month, or as it is commonly referred to, American Indian and Alaska Native Heritage Month. The month is a time to celebrate rich and diverse cultures, traditions, and histories and to acknowledge the important contributions of Native people. This Heritage Month is also an opportune time to educate the general public about tribes, to raise a general awareness about the unique challenges Native people have faced both historically and in the present, and the ways in which tribal citizens have worked to conquer these challenges. Click here for a full list of campus events

International Education Week (IEW), November 12-16, is an opportunity to celebrate the benefits of international education and exchange worldwide. This joint initiative of the U.S. Department of State and the U.S. Department of Education is part of our efforts to promote programs that prepare Americans for a global environment and attract future leaders from abroad to study, learn, and exchange experiences. Click here for a full list of campus events.

Ford School Diversity, Inclusion and Equity (DEI) Coalition

Members of the 2018 - 19 DEI Coalition are:

DEI Officer — Chair, Stephanie Sanders
Associate Dean for Academic Affairs — Ex Officio, Paula Lantz
Director of Student Services – Ex Officio, Susan Guindi
Faculty members – Robert Hampshire, Yazier Henry
Staff members – Courtney Villa, Nick Pfost
Undergraduate students – Riyah Basha, Priya Choezom
Master degree students – Selene Ceja, Akin Olumoroti
Doctoral student – Matthew Alemu

This school-level coalition of students, faculty and staff will plan and advise on DEI-related activities and initiatives.
 
NEWS AND UPDATES

November 2018 Student Spotlight


Members of our community were asked to share an influential experience that connects to their Public Policy major or minor, work experience or research. This month's student spotlight is Aprisal Malale.

Degree Program: MPP Public Policy 2020
Hometown: Palu, Indonesia
Affiliations: SAC and Global Fordies
 
"The recent earthquakes and tsunami that happened in Palu have presented much devastation on all level. Houses, bridges, roads are broken, more than 2,000 people died, basic public needs such as water, clothes, and electricity are scarce, let alone the mental health of the survivors who have to struggle with the trauma and the grieve. At this challenging time, the next center of attention is how local government reacts. What policy decisions they make and how they implement it, as government are the only resources available and reliable for the survivors. Looking at this situation has somehow shifted my focus in the pursuit of public policy study at Ford School. I am now more inclined to study about local government policy and economic development that can be used to re-build my hometown. I want to expand my capacity to help local government in designing and implementing impactful and trusted policy."

What do you wish to share with the broad Ford School Community?

"In my first month at Ford school, I was a stranger. I was struggling with adapting to new situation and culture. But, this community has reached out to me as a family in my time of need with all the sincere acts of care and help, as well as professional support of mental health. I am so thankful for every support that was given to me in this challenging time. I am stranger no more."

Also, in this month's spotlight are veterans on staff - Bill Kelly, and Eric VanDeventer.

Bill Kelly
United States Army, 1986-1992, Military Policeman
Tours of Duty: Fort Drum, NY; Augsburg, Germany
Facilities Manager, Ford School of Public Policy

Eric VanDeventer
United States Navy, 2009-2014; Michigan Army National Guard 2014-2017
Tours of Duty: In support of Operations Enduring Freedom and Inherent Resolve
Administrative Assistant, Dean's Suite, Ford School of Public Policy
 
RESOURCES
Ford School of Public Policy
Susan Guindi, Director, Student and Academic Services
sguindi@umich.edu | (734) 615-7408
 
Paula Lantz, Ph.D., Associate Dean for Academic Affairs; Professor of Public Policy
plantz@umich.edu | (734) 764-8976
 
Stephanie Sanders, Ph.D., Diversity, Inclusion, Equity Officer/Lecturer III
stepsand@umich.edu | (734) 615-4402
 
Campus Resources
Got news?
Do you know of an upcoming DEI related event that may be of interest to others? Send your news updates to stepsand@umich.edu or call (734) 615-4402.

Thank you for supporting our DEI mission.

Best wishes,



Stephanie Sanders
Diversity Officer/Lecturer III