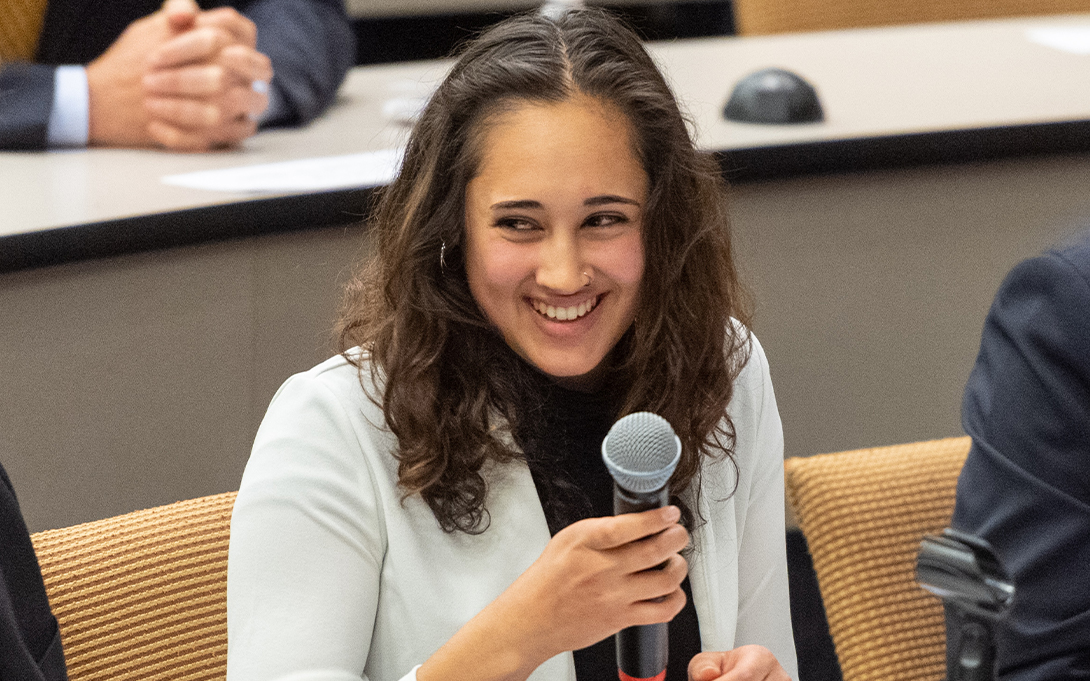 Karuna Nandkumar (BA '21) is an aspiring diplomat and has a deep interest in China. She will be able to pursue that interest after winning a prestigious Schwarzman Scholarship, which will fund a multidisciplinary one-year master's degree at Tsinghua University in Beijing beginning next August.
The Schwartzman Scholars program, established in 2016, is designed to build students' leadership abilities and deepen their knowledge of China and global affairs. More than 150 scholars from around the world were chosen as 2022 Schwarzman Scholars.
"We are thrilled to have six Schwarzman Scholars this year," said Henry Dyson, director of the U-M Office of National Scholarships and Fellowships. "They include both graduating seniors and recent alums who have been working in industry and finance and demonstrated leadership potential in their fields and an articulate vision, developed through the application and interview process, of how a better understanding of China is important to their future career trajectory."
"The members of this cohort will play crucial roles in increasing mutual understanding between China and the rest of the world, now and for years to come," said Cordel Faulk, director of global admissions at Schwarzman Scholars. "I am thrilled to welcome this incredible group at a moment when the world needs global leaders more than ever before." 
Nandkumar will study public policy, focusing on diplomacy and international security. She is the president for the Michigan Foreign Policy Council at U-M and worked as an intern at the U.S. Embassy in Mexico City.
"I am incredibly honored to have the opportunity to form those relationships with rising leaders from around the world in Beijing," Nandkumar said. "Through the Schwarzman process, I developed a deeper understanding of how my background navigating relationships between the different cultures in my own family fuels my desire to facilitate cross-cultural relationships on an international scale."
After returning from Schwarzman with a deeper understanding of China-U.S. relations and Chinese foreign policy, Nandkumar hopes to work as a political foreign service officer in the U.S. State Department.
"As an aspiring diplomat, I applied to the program to gain a level of understanding of Chinese culture, history, and foreign policy impossible to gain outside of China," Nandkumar said. "I hope to return to the U.S. better prepared to find windows of agreement for cross-cultural collaboration, alongside a network of peers similarly striving to lead positive change across the globe."
In addition to Nandkumar, Trevaughn Latimer, an alum of the Public Policy & International Affairs program in 2018, also received a Schwarzman Scholarship.  
Portions of this article first appeared in a Michigan News item, which can be seen here.