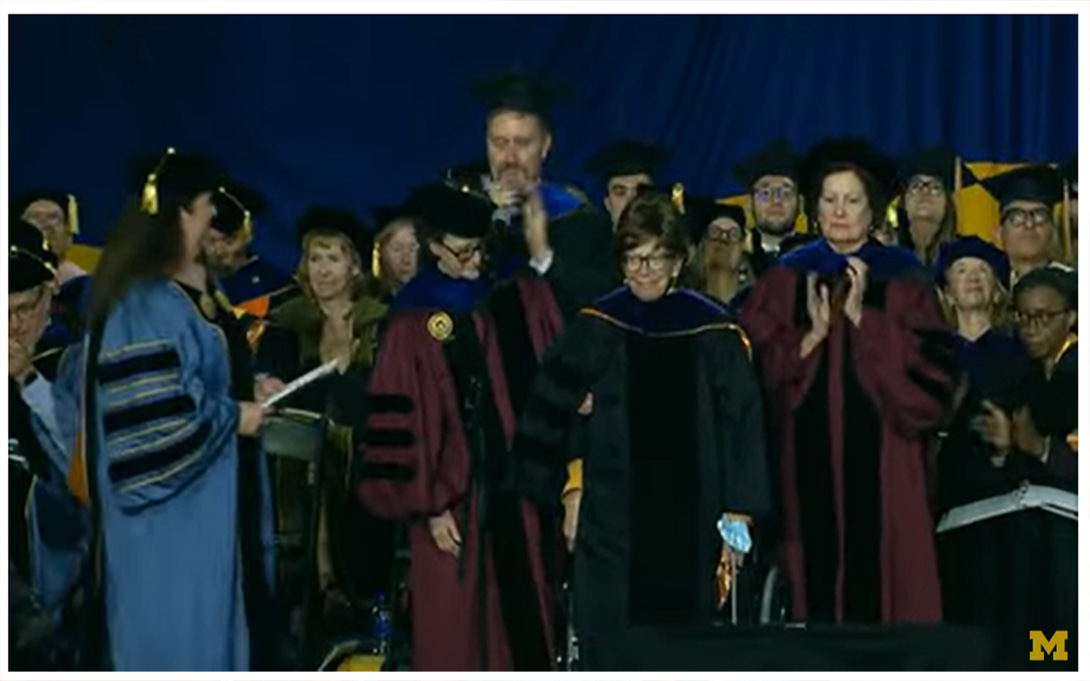 Former Ford School Dean Rebecca Blank was honored at the University of Michigan Winter Commencement with an honorary Doctor of Laws degree, citing her work in the Clinton and Obama administrations, her academic accomplishments and international prestige, and her important legacy at the Ford School. 
The school also salutes 22 students – 11 MPPs, 3 MPAs, and 8 BAs – on their graduation. 
The commencement also was marked by speaker Vera L. Songwe (MA '96), chair of the United Nations Liquidity and Sustainability Facility and co-chair of the High Level Panel on Climate Finance, who encouraged the graduates "to embrace a future of possibilities and persist throughout any hardships that may come along the way."
It was the first commencement for U-M President Santa J. Ono. "As you go, you will also face challenges. I won't lie. There will be difficult moments: moments of loneliness, disappointment and uncertainty," he said. "It is in those low moments, far more than your times on the peaks, that you will need to remember who you are — that you have chosen — and still choose to be, a Michigan Wolverine."
Blank's tenure as Ford School dean saw the naming of the school for the 38th president of the United States, the construction of Weill Hall, and initiation of the BA and PhD programs. The school's main gathering area has been named in her honor and is now the Rebecca M. Blank Great Hall.
On Saturday, December 17, the Ford School hosted a lunch for Blank in the newly-named hall; around 40 current and former faculty, staff, and alumni from around the country gathered in tribute to Blank.
"We're so proud of our December 2022 graduates. They'll change the world for the better," said interim Ford School dean Celeste Watkins-Hayes. "And it was a true honor to welcome Becky Blank home and celebrate her truly exceptional contributions to the Ford School."