Racial foundations of education policy
Speaker
Dr. Rucker Johnson
Date & time
Oct 26, 2021, 4:00-5:30 pm EDT
Location
This is a Virtual Event.
Racial Foundations of Public Policy is a fall 2021 virtual speaker series that focuses on the historical roots and impact of race in shaping public policy as both a disciplinary field and as a course of action. The series will bring in renowned scholar-experts from across the country to be in conversation with Dr. Celeste Watkins-Hayes, director of the Center for Racial Justice at the Ford School of Public Policy. The series is open to all members of the University of Michigan community and the wider public.
Rucker C. Johnson is the Chancellor's Professor of Public Policy in the Goldman School of Public Policy at the University of California, Berkeley, and faculty research associate at the National Bureau of Economic Research.  As a labor economist who specializes in the economics of education, Johnson's work considers the role of poverty and inequality in affecting life chances.
Johnson was inducted as the Sir Arthur Lewis Fellow of the American Academy of Political and Social Science, inducted as a member of the American Academy of Arts & Sciences, the National Academy of Education, and received the 2017 Andrew Carnegie Fellowship. His research has appeared in leading academic journals, featured in mainstream media outlets, and he has been invited to give policy briefings at the White House and on Capitol Hill. He is the author of the book Children of the Dream: Why School Integration Works.
Johnson is committed to advance his scholarly agenda of fusing insights from multiple disciplinary perspectives to improve our understanding of the causes, consequences, and remedies of inequality in this country. Johnson earned his Ph.D. in economics at the University of Michigan. At UC-Berkeley (2004-present), he teaches graduate and undergraduate courses in applied econometrics and topical courses in race, poverty & inequality.
Have any questions?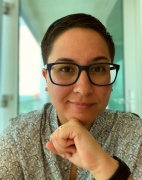 Managing Director, Center for Racial Justice; Senior DEI Strategist, Ford School; Adjunct Lecturer
Contact