Date & time
Apr 8, 2021, 7:00-8:00 pm EDT
Location
This is a Virtual Event.
Everyone has a talent, often hidden. Let them be hidden no more! Join the Ford School community for an all-school talent show. 
In partnership with the Student Affairs Committee and Charity Auction, the show will benefit the Detroit Justice Center, which works alongside communities to create economic opportunities, transform the justice system, and promote equitable and just cities. Charity Auction suggests a $5 donation to the Detroit Justice Center, and will provide more information soon on how to support them.
No RSVP required. A link will be emailed to the Ford School community on the day of the event.
Submit your talent
All forms of artistry are welcome, from students, faculty and staff. In addition to the performing arts (singing, dancing, comedy, dramatic readings, skits, etc), you can show us your painting, ceramics, photography, crocheting, bedazzling—whatever you want! Maybe show us how to cook your favorite dish or mix a cocktail (in under 3 minutes). You can submit a still photo or a video.
Submissions are due by EOB Monday, March 29. View the submission instructions.
Class of 2021 celebration portal
Visit the Ford School's Class of 2021 landing page for more information on celebrating our graduates.
Have any questions?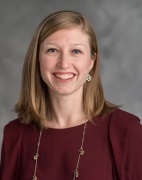 Special Assistant to the Dean
Weill Hall
735 S. State St. #4315
Ann Arbor, MI, 48109
Contact