New approaches to countering nationalist extremism in North America
Speaker
Professor Juan Carlos Barron Pastor, Dr. Ghayda Hassan, and Erin Wilson
Date & time
Feb 11, 2022, 11:45 am-1:00 pm EST
Location
This is a Virtual Event.
Nationalism and extremism pose mounting challenges around the world, including in North America. This web-based panel discussion will be the fourth in a series organized as part of the 2021-22 North American Colloquium by the Autonomous National University of Mexico, University of Toronto, and University of Michigan.
The previous three sessions examined historical drivers of nationalist extremism,  current threat landscapes, and the policy tools and frameworks available to address them. This fourth and final webinar session will discuss new approaches to countering nationalist extremism leading into the full-day annual tri-national colloquium on April 8, 2022.
Two faculty members at the University of Michigan's Gerald R. Ford School of Public Policy will host and moderate the event. John Ciorciari is Associate Professor of Public Policy and Director of the International Policy Center and Weiser Diplomacy Center and author of Sovereignty Sharing in Fragile States (2021). Javed Ali is Associate Professor of Practice and has served in numerous senior U.S. government roles relating to national security, intelligence, and countering extremism.
About the speakers
Juan Carlos Barron Pastor is a professor and thesis advisor at the Autonomous National University of Mexico (UNAM) Schools of Accounting and Business Administration and Political and Social Sciences. He also participates in several UNAM graduate programs at the Center for Interdisciplinary Research in Science and the Humanities and the Institute for Research on the University and Education. He is part of the coordinating team of the Research Committee on Social-cybernetics of the International Sociological Association; he is the international coordinator of the line of research on violence for the University of Coahuila and the UNAM's doctorate in sciences and the humanities for interdisciplinary development; and he is an active participant in the Seminar on Complexity hosted by the Research Division of the UNAM School of Accounting and Business Administration.
Professor Barrón received his doctorate in philosophy and his master's in development studies from the University of East Anglia School of International Development in the United Kingdom. He received his bachelor's in business administration from the UNAM School of Accounting and Business Administration. He currently heads the project "Mass Media in North America: Mexico in the U.S. and Canadian Social Imaginary" in the Center for Research on North America (CISAN) Strategic Studies Area. He has authored and co-authored books, book chapters, academic articles, and articles for broader circulation nationally and internationally on issues of complexity, violence, the media, critical theory, and education.
Dr. Ghayda Hassan is a clinical psychologist and professor of clinical psychology at the University of Quebec in Montreal and has several research, clinical and community based national and international affiliations. Her systematic reviews, research and clinical activities are centered around four main areas of clinical cultural psychology: intervention in family violence & cultural diversity, identity, belonging and mental health of children and adolescents from ethnic/religious minorities, cohabitation, intercommunity relations and violent extremism, and working with vulnerable immigrants and refugees.
She has served as director of the Canada Practitioners Network for the Prevention of Radicalization and Extremist Violence and UNESCO co-chair on Prevention of Violence Radicalization. Overall, she is an excellent researcher and clinician, as well as a policy consultant in matters of interventions in the context of violence including radicalization, family violence, and war.
Erin E. Wilson is the Director for the D.C. Attorney General's Presidential Initiative, The People v. Hate: Standing Up for Humanity, as the 2021 president of the National Association of Attorneys General. The initiative focuses on addressing acute forms of hate, such as hate crimes, and the legacy of hate and discrimination that permeates our institutions and continues to perpetuate injustice. She also serves as a Senior Policy Advisor on issues related to social and racial justice, hate, and domestic extremism. Immediately before joining the Washington D.C. Office of the Attorney General, Ms. Wilson served as a 2019 Brookings Legislative Fellow and Senior Policy Advisor in the Senate, where she furthered legislation to improve social justice, prevent hate, and counter violent white supremacy. Over her 20-year career, Ms. Wilson has established herself as a leading expert on counter hate policy, with extensive interagency experience across the U.S. Government's executive and legislative branches. She boasts an extensive track record of partnering with diverse community stakeholders as well as federal, state, local agencies and law enforcement partners to design and implement strategies, policies, and programs to counter hate, while promoting civil rights. Ms. Wilson earned her master's degree in Comparative Politics and Conflict Studies, with an emphasis on extremism, from the London School of Economics. She received her bachelor's degree in International Relations from Michigan State University.
Have any questions?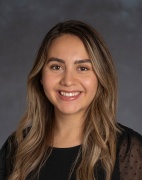 Administrative Assistant, International Policy Center and Weiser Diplomacy Center
Weill Hall #3310
735 S. State Street
Ann Arbor, MI, 48109
Contact