#GivingBlueday: Your day to be a victor for the Ford School
Date & time
Nov 29, 2016, 12:00 am-11:55 pm EST
Location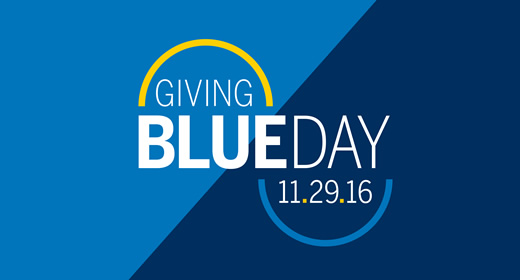 From midnight through 11:59 p.m. EST, you can be a victor for the Ford School and a victor for Michigan by making a gift to support what you are most passionate about at U-M. Your gift, no matter the size, will make a difference. You can even increase the size of your gift with funding from matching gifts and challenges that you can participate in throughout the day. No matter where you are, or the time of day, you can support what you love about Michigan.
By choosing to support the Ford School on Giving Blueday, you'll join other members of the Ford School family from around the world—alumni, students, faculty, staff, parents, and friends—to create an enormous impact.
You can also visit givingblueday.org for social media challenges, special events, and real-time updates on November 29.
Sheldon and Sandra Danziger Fund
https://leadersandbest.umich.edu/find/#/give/basket/fund/797455
The first $5,000 in online gifts will be matched matched one dollar for every two dollars given, thanks to a generous donation from the Danziger family.
Graduate Centennial Fund
http://fordschool.umich.edu/giving/graduate-centennial-fund
BA Future Leaders Fund
http://fordschool.umich.edu/giving/future-leaders-fund
For more information contact Erik Boneff at egboneff@umich.edu or 734-615-9645.