Behavioral Finance Symposium
Date & time
Sep 14-15, 2017, 8:00 am-2:00 pm EDT
Location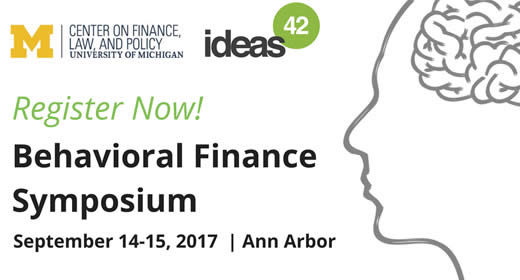 Register for this symposium here.
WE'RE NOT ROBOTS. FINANCIAL POLICY SHOULDN'T ACT LIKE WE ARE.
Keynote Remarks by Nobel Laureate Robert J. Shiller, Sterling Professor of Economics at Yale University and by Diana Farrell, Founding President & CEO, JPMorgan Chase Institute.
Significant strides in consumer protection, investment advice rules, retirement security policies, fintech innovations on credit, investment, insurance, payments and financial management have been made as a result of behavioral research and innovation over the last decade.
This symposium takes stock of what we have learned, explores where progress or retrenchment has occurred, and charts paths for future research, product innovation and better policies at all levels. We will be exploring four areas in depth: consumer finance, investment and retirement security, micro-enterprise and small business, and macro financial stability.
The symposium will include keynote and panel discussions, plus other activities. For a full schedule and more information please visit http://financelawpolicy.umich.edu/behavioral-finance-symposium/
Co-hosted by ideas42 and the Center on Finance, Law, and Policy at the University of Michigan.