8th annual Worldwide Ford School Spirit Day
Toast the Ford School and its namesake, President Gerald R. Ford
Date & time
Oct 2, 2023, 6:08 pm EDT
Location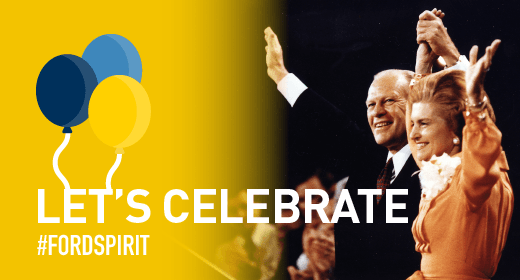 Raise a glass to the Ford School and its namesake, President Gerald R. Ford
Friends, students, and alumni: Let's celebrate President Ford's birthday!
Join us at the eighth annual Worldwide Ford School Spirit Day on Thursday, July 12. It's a great opportunity to socialize, network, and share your Ford School spirit, all in the name of President Ford.
All Spirit Day gatherings are free to attend; food and drinks are available for purchase. If your city is not on the list, contact Elisabeth Johnston, alumni relations manager (eajohnst@umich.edu or 734-615-5760), to learn how you can organize a Spirit Day gathering in your city.
Can't attend one of our events Spirit Day events? Consider helping our students carry on President Ford's legacy by making a donation to a Gerald R. Ford Presidential Fellows internship. http://myumi.ch/6Q40Y 
Share your memories using #fordspirit
2018 Spirit Day cities include: