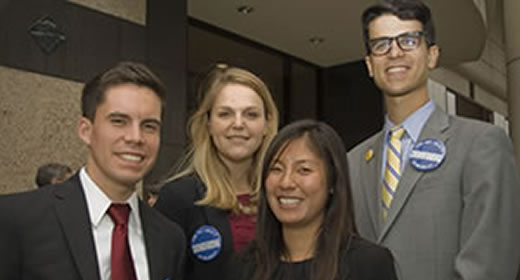 Christopher Falcone (MPP '14), Matthew Papadapoluos (MPP/MA '13), Erin Sullivan (MPP '14), and Jessica Teng (MPP '14) appeared in front of the House Commerce Committee to testify on House Bill (HB) 4996 which would allow equity crowdfunding in Michigan. The students have been working on this issue as part of their Applied Policy Seminar (now called Strategic Public Policy Consulting or SPPC), taught by Professor Elisabeth Gerber. Their project has focused on the possibility of using crowdfunding to spur economic development in Michigan.

HB 4996, sponsored by Representative Nancy Jenkins (R-Clayton), would allow Michigan residents whose annual income or net worth is not large enough to be considered accredited investors to invest up to $10,000 in a Michigan business in exchange for equity. This model differs from popular donation-based crowdfunding models like Kickstarter, which allow people to finance companies through individual donations, often with rewards based on the amount pledged.

The students testified that, after studying the emerging trend of equity crowdfunding and analyzing the potential impacts of HB 4996, they believe it could benefit small businesses across the state by opening up avenues to obtain hard to come by capital. Representatives voiced some concerns over the potential for fraud but Sullivan emphasized that the bill contains "significant protections for investors." The students' testimony was mentioned in coverage of the hearing by MLive.

Falcone, Papadapoluos, Sullivan, and Teng have been looking into the potential of equity crowdfunding with their Applied Policy Seminar client, Chris Miller, downtown development authority and economic development coordinator for the city of Adrian, Michigan. Their work also received coverage in a Crain's Business article on HB 4996.