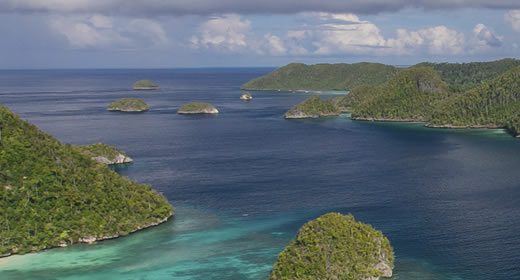 The Applied Policy Seminar, now called Strategic Public Policy Consulting or SPPC, puts Ford School master's students to work completing commissioned policy research projects for public-sector clients. Not only is the experience beneficial for students pursuing policy careers, but a good number of these projects have influenced discourse and organizations well beyond the walls of Weill Hall. The latest example? A report students wrote with Adam Heal of the United Nations Economic and Social Commission for Asia and the Pacific (ESCAP) was published this spring in Comparative Economic Studies.
The report focused on a troubling economic phenomenon known as "the natural resource curse," in which countries rich in natural resources like oil, minerals, lumber, fish, and agricultural commodities actually suffer lower economic growth than their resource-poor peers. Heal tasked students with exploring the phenomenon in Papua New Guinea and recommending policies that might help the country better manage its natural resource income to promote sustainable, long-term economic growth.
United Nations ESCAP, which offers policy-relevant research focused on the Asia-Pacific, believes it's important that policymakers in the region fully understand the challenges that accompany rich natural resources, and learn from available research and experience, says Heal. "Many countries in the Asia-Pacific region are rich in natural resources, but unless those resources are used effectively to support development, they can end up making peoples' lives worse."
Heal describes Papua New Guinea's economic challenges from natural resource dependence as acute. "[Papua New Guinea] needs to carefully manage macro-economic challenges like 'Dutch disease' while avoiding the pitfalls of corruption and ethnic divisions."
The team of students who worked with Heal included Nayda Avalos (MPP '13), now a junior professional associate at The World Bank, Veronica Gonzales Stuva (MPP '13), now a consultant at the Inter-American Development Bank, Kaoru Iida (MPP '13), now a unit chief at the cabinet office of the Government of Japan, and Naohito Okazoe (MPP '13), now an analyst in the international affairs division of the Fisheries Agency of Japan. Their report, Papua New Guinea and the Natural Resource Curse, focuses particular attention on management and governance challenges, recommending ways national leaders can strengthen relationships with natural resource-producing companies and better invest the associated revenues. 
"The work of ESCAP and the Ford School has helped highlight the difficulties facing [Papua New Guinea] in relation to its management of natural resources and in particular the need for more transparent mechanisms for public spending," says Heal. He describes the Ford School's students as "focused, quick to learn, and professional."