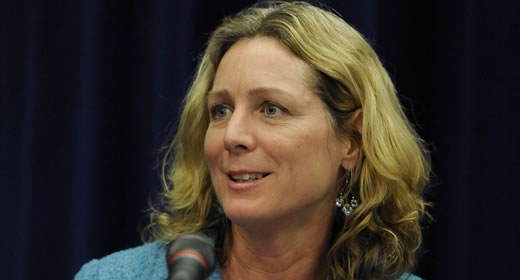 State Representative Gretchen Driskell, an MPA candidate at the Ford School, has made it official: she is running for Congress. In a press conference Monday morning, Driskell announced that she will challenge Republican incumbent Tim Walberg for Michigan's 7th Congressional District.
In 2012, after serving as mayor of Saline for fourteen years, where she was the first woman elected to the post, Rep. Driskell answered the call to represent Michigan's 52nd House District - and winning that election was no small accomplishment. Republican incumbent Mark Ouimet out-spent her by more than 2-to-1, and in this article in the Ann Arbor News, Amy Biolchini noted that the odds were not in her favor. Driskell won re-election in 2014, despite deepening Republican control of the legislature, and she now hopes to repeat those upsets in 2016 by unseating Tim Walberg, a member of the Tea Party Caucus.
Walberg first took office in 2007 after defeating incumbent Congressman Joe Schwarz, a moderate Republican (and Ford School lecturer), in the 2006 midterms.  Walberg, who was unseated by former Democratic gubernatorial nominee Mark Schauer in 2008, was again elected in 2010, 2012, and 2014 to represent the 7th Congressional District. 
Despite the advantages of incumbency for Congressman Walberg, Dr. Schwarz predicts that if both Driskell and Walberg are able to get out the vote among their supporters, the race could go either way.  Schwarz, who has known Driskell for about a decade, spoke of her as an intelligent policymaker and a moderate Democrat who takes the requisite time to consider issues and perspectives on both sides of the aisle.  When he first knew of Representative Driskell's plans to run, Schwarz says he was "delighted."
In Will Forgrave's February 9 MLive article, he made the observation that "announcing her candidacy early allows her to prepare for the long campaign ahead and perform her legislative duties in chorus."  Dr. Schwarz has echoed that sentiment, adding that raising the kind of money needed for a race at this level is often "a huge disincentive" for prospective candidates.  By launching her campaign now, he noted, she has the opportunity to get an early fundraising start and clear the field of potential opponents in the 2016 primaries.
"The 7th District is a very large one, and I'm looking forward to traveling the district and learning about voters' wants and needs," Driskell told MLive. "At the same time, I have residents in the 52nd District to represent. I need the time to do both to the best of my ability."
--By Nick Pfost (MPP '15)