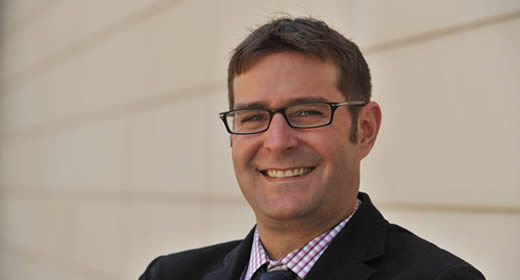 Kevin Stange, who joined the Ford School in 2010, has been promoted to associate professor of public policy with tenure.
His promotion was approved at the May 18, 2017 meeting of the University of Michigan Board of Regents.
"Kevin's colleagues and the Provost were pleased to recommended his promotion," wrote Susan M. Collins in a May 18 email to faculty and staff at the Ford School. "We noted that he is very well-known and respected in the economics of education for his scholarly and public goods contributions, and that he has an outstanding record of teaching and service at the Ford School," she wrote, adding how wonderful it was to count him among the school's tenured faculty. 
Collins remarked that one of Stange's external reviewers noted, "Both the quantity and quality of his research record is impressive… (and) he has made a strong impact in the policy realm as well as with his leadership within the profession."
Stange is a faculty research fellow at the National Bureau of Economic Research (since 2013) and a faculty affiliate of the Center for the Study of Higher and Postsecondary Education and the Education Policy Initiative (since 2014), both at University of Michigan. His research has been published in numerous economics, education, and policy academic journals and has been featured in many popular outlets such as Time magazine, the Wall Street Journal, Inside Higher Ed, The Chronicle of Higher Education, the Atlantic Monthly, and the Freakonomics blog.
We look forward to sharing more about Stange's work and accomplishments in the years ahead. 
---
Kevin Stange earned his bachelors' in mechanical engineering (1999) and economics (2000) from MIT and his PhD in economics (2008) from the University of California, Berkeley. At the Ford School, he teaches graduate courses in higher education policy, economics, and quantitative methods.