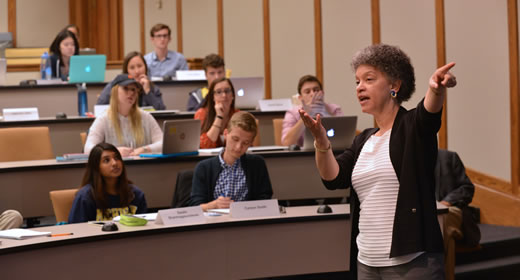 Susan M. Collins, the Joan and Sanford Weill Dean of Public Policy at the Ford School and a former president of the Association of Professional Schools of International Affairs (APSIA), has signed a "Commitment to Diversity" statement just released by APSIA's executive committee. 
The statement reacts to the U.S. Executive Order signed by President Donald Trump on January 27 and reaffirms APSIA's commitment to diversity, policy, and service.
APSIA's Commitment to Diversity:
Since its founding, the Association of Professional Schools of International Affairs has been dedicated to the improvement of professional education in international affairs and, thereby, the advancement of global prosperity, peace, and security.
Peace, prosperity, and security come from the exchange of ideas, goods, services, and interactions with those different from ourselves.
We are alarmed by the recent US Executive Order banning visa issuance from seven Muslim-majority nations, which was issued after harsh statements directed specifically and categorically against Muslims.
Closing ourselves off makes our countries ill prepared to deal with global challenges. It also directly challenges the work of our members and affiliates and is contrary to the core values of our Schools.
People from all points of view, religions, races, and backgrounds contribute to the education APSIA schools provide. Our community of tens of thousands of students, faculty, alumni, and staff come from nearly every country in the world, as our schools are committed to diversity and inclusion.
We know diversity is an asset. Our students encounter different and divergent perspectives, so that they are adequately prepared for the complex, interconnected world in which they live. They learn to separate information from knowledge. They build a framework to evaluate choices and form opinions based on the analysis of concrete information.
Policy choices matter. They affect people's lives. That's why we dedicate ourselves to educating current and future leaders about the issues that connect us. By design, our schools and our students focus on international affairs and policy, because they want to serve a good larger than themselves.
Our students come to master aspects of international affairs in all its complexity. The APSIA community remains dedicated to helping students, schools, organizations, and partners transform themselves into more effective agents of positive change in an environment of mutual respect for all.  We will also work to provide a vehicle for representatives from our Schools – deans, faculty, career specialists, academic advisers, communications staff, and others – to consult on issues that go to the heart of what we do.
On the same day, U-M President Mark Schlissel joined dozens of university presidents in another letter that urges President Trump to "rectify or rescind" the order. 
---
Susan M. Collins is the Joan and Sanford Weill Dean of Public Policy at the Gerald R. Ford School of Public Policy and a professor of public policy and economics. She currently serves as a member of the Board of Directors of the Federal Reserve Bank of Chicago, a member of the Council on Foreign Relations, a research associate at the National Bureau of Economic Research, and a nonresident senior fellow at the Brookings Institution. She served a term as president of the Association for Professional Schools of International Affairs (APSIA) from 2013-2015 and, earlier in her career, as a senior staff economist on the President's Council of Economic Advisers.