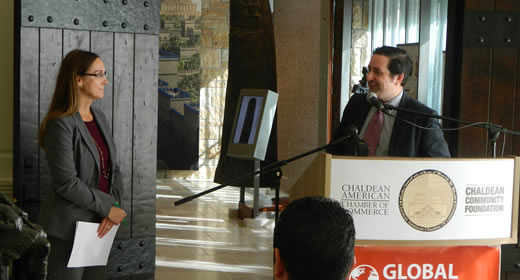 Every year, refugees to southeast Michigan contribute up to $295 million to the region's economy, according to a new study led by Global Detroit and researchers at the University of Michigan Ford School of Public Policy.
The economic contributions the study measured come from spending by refugee households, businesses that refugees have opened, and refugee resettlement agencies. The study conservatively estimates their total annual economic impact to be between $229.6 million and $295.3 million in new spending, along with between 1,798 and 2,311 new jobs in 2016 alone.
"Our research documents that these new Michiganders have been a source of strength to the Michigan economy—launching businesses, providing much-needed labor, and achieving self-sufficiency within a very short time after their arrival," said STEVE TOBOCMAN (MPP/JD '97), executive director of Global Detroit and one of the study"s principal authors.
"While refugee policies and politics necessarily extend beyond economics, our research verifies that being welcoming to refugees is in our own economic self-interest."
In addition to Global Detroit and U-M, other institutions that contributed to the report include: the Chaldean American Chamber of Commerce; local refugee resettlement agencies Samaritas, Catholic Charities of Southeast Michigan, Jewish Family Services of Washtenaw, and U.S. Committee for Refugees and Immigrants; and Welcoming Michigan-Michigan Immigrant Rights Center.
Over the last decade, more than 30,000 refugees have moved to Michigan, making it the fourth-largest destination state in the nation. Southeast Michigan—more specifically Macomb, Oakland, Washtenaw, and Wayne counties—is home to nearly half of them.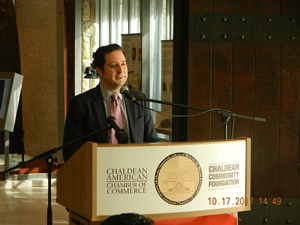 A refugee is a person who has been forced to flee their home and is unable to return due to a fear of persecution based on religion, race, nationality, political opinion or membership in a particular social group. Those eligible for resettlement abroad must be unable to return home or live safely in neighboring countries. Anyone who may pose a security threat or who has committed a serious crime is ineligible for resettlement.
The study was released at the Chaldean Cultural Center in West Bloomfield. According to U.S. State Department data analyzed in the study, 90 percent of the refugees who resettled in southeast Michigan during the past decade were Iraqis and many were Chaldean—an indigenous people of Iraq who speak a form of Aramaic and, as Christians, face persecution in present-day Iraq. Southeast Michigan is home to the world's largest Chaldean population outside of Iraq, with an estimated 150,000 Chaldean people, over 61 percent of whom live in households that own one or more businesses.
To arrive at their findings, the researchers examined sources of new spending that would not exist if not for the resettlement of more than 21,000 refugees in Macomb, Oakland, Washtenaw and Wayne counties between 2007 and 2016. They used Census sources and survey instruments to quantify and validate the annual spending from refugee resettlement agencies' federal contracts, refugee households and refugee-owned businesses.
"Studies like this can help policymakers, local and state government, philanthropy, and even the private sector," said study co-author ELISABETH GERBER, professor and associate dean at U-M's Ford School of Public Policy.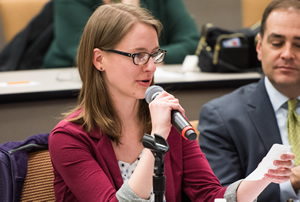 Gerber and Tobocman co-taught a research seminar on refugee resettlement, which gave graduate students like JACQUELINE MULLEN (MPP '18), a co-author on the report, an opportunity to assist with the study.
"It is our hope that local communities deciding to welcome refugees can use this research to better integrate refugees, help them achieve self-sufficiency, and ensure that their resettlement is an economic benefit to the local community," Gerber said.
This study is being released at a critical time. President Trump announced last month that the U.S. would accept only 45,000 refugees in the coming fiscal year—the lowest since U.S. presidents began setting the annual ceiling on refugee admissions in 1980.
Yet, across the globe, there are more refugees than at any time since the World War II. Some 22 million people—more than half of whom are children—are unsafe in their home countries. The U.S. has traditionally accepted the largest number of these referrals—more than 3 million refugees since 1975. While the Trump administration has decreased the U.S. role in providing a place of refuge, other nations—especially in Europe—have stepped up their leadership.
The study is part of a larger effort to build a regional refugee resettlement collaborative in southeast Michigan. Global Detroit, partners at Welcoming Michigan-Michigan Immigrant Rights Center and the four refugee resettlement agencies in the region—Samaritas, Catholic Charities of Southeast Michigan, Jewish Family Services of Washtenaw, and U.S. Committee for Refugees and Immigrants—formed a core group to launch the endeavor amid the growing global refugee crisis in 2015.
More than a dozen other state and local government partners, as well as other social service providers, have worked to build the collaborative. Following a communications effort to tell refugee stories as part of Immigrant Heritage Month in June 2017, this economic analysis is the second product of the collaborative's efforts. Global Detroit is a nonprofit focused on revitalizing Michigan's economy through international connections including immigration and foreign trade and investment.
Michigan News release by Nicole Casal Moore, 734-647-7087, ncmoore@umich.edu.