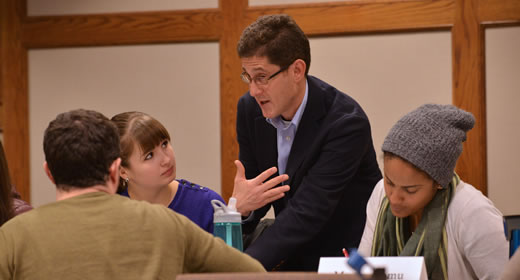 "Are Michigan's schools improving? According to a new analysis of national testing data, the answer is a clear 'no,'" says Michigan Radio's "Stateside" in today's segment, "On national reading and math test, Michigan only state where students have not improved."
"Stateside" is referring to Brian Jacob's recently released Brookings report, which explores how Michigan students fare in reading and math proficiency tests—now, and over time—and what the U.S. Department of Education can do to foster meaningful reform in the Trump era.
"We found that Michigan students are performing very poorly on national exams, really no matter how you cut the data," Jacob told "Stateside."
"If you look at straight proficiency rates, Michigan is 41st out of 50 states," he says. "And then if you look at the change in proficiency between 2003 and 2015, it turns out that Michigan is the only state in the country where proficiency rates have actually declined over time. It is 50 out of 50."
---
Brian Jacob is the Walter H. Annenberg Professor of Education Policy, Professor of Economics, and Professor of Education at the University of Michigan. He is co-director of the Ford School's Education Policy Initiative (EPI), which engages in applied, policy-relevant education research designed to help improve overall educational achievement and outcomes.