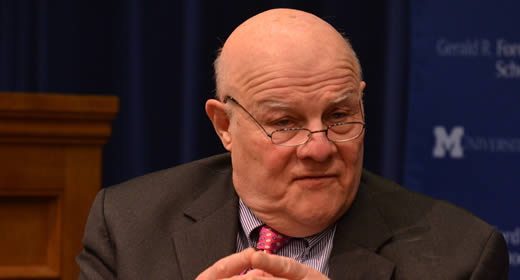 Melvyn Levitsky was featured in an article published in U.S. News and World Report today titled, "Cooperation with Russia in Syria Off the Table for Trump Team." The article focuses on the national security team's decision not to consider any increase in cooperation with Russia against the Islamic State group in Syria.
The article notes that while Trump has advocated that the U.S. should turn over the war campaign to Russia, military officials have expressed skepticism about Russia's ability to uphold commitments it has made to the U.S. in the past, or to reveal its true intentions in Syria.
There is also concern that President Trump will repeat the mistakes of past presidents who entered wars without a plan for stability. "It isn't unusual that when you're involved in what you see as an important military, even political-military struggle, that you look at the immediate, short-term consequences," Levitsky says.
According to Levitsky, U.S. cooperation with Russia in Syria requires an understanding of Russia's strategy.
"You get caught up in this immediate goal, this immediate struggle: 'Tell me how to defeat ISIS.' It isn't the same with the Russians. They're there to stay. They have a strategy beyond Syria: a foot in the Middle East, a 'Make Russia Great Again' campaign, and having a say-so in world affairs," Levitsky says.