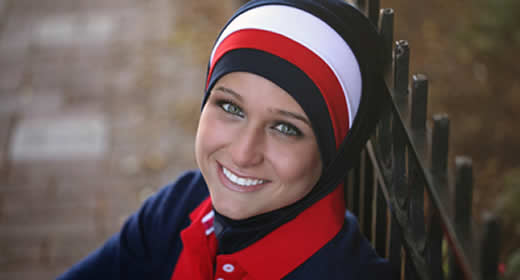 Nadine Jawad (BA '18) has been selected as a 2017 Truman Scholar by the Harry S. Truman Scholarship Foundation.
Created by Congress in 1975, the foundation's mission is to identify and support the next generation of public service leaders. The Truman award has become one of the most prestigious national scholarships in the United States.
This year's selection process involved 768 nominees, 199 finalists, and just 62 new Truman Scholars. Recipients receive a $30,000 scholarship toward graduate school and the opportunity to participate in professional development programming to help prepare for careers in public service leadership.
Susan M. Collins, the Joan and Sanford Weill Dean of Public Policy, personally delivered the exciting news to Jawad. "The feeling is honestly surreal," Jawad says. "It is a true honor to represent my family, my hometown, and the University of Michigan as a Truman Scholar."
As a first-generation college student and the daughter of a Lebanese refugee, it was not always apparent to Jawad that such opportunities would be available. She says witnessing how discrimination and systemic inequalities affected her family inspired her interest in public service. "Because of these experiences, I developed a firm belief in the power of policy and advocacy in challenging and changing the status quo."
Jawad has used her time at U-M to do just that.
Recently elected as the central student government vice president and as one of a handful of U-M MLK award recipients, Jawad has worked passionately on campus climate and diversity, equity and inclusion initiatives. Last year, The Michigan Daily named Jawad student of the year, citing her social justice advocacy, especially co-founding Books for a Benefit, a student service organization that promotes literacy in under-resourced communities.
Jawad is also involved with U-M's Edward Ginsberg Center, serving on the student advisory board for the past three years. Last year, Jawad and her family developed the Ahmad K. Jawad Scholarship for Community Service and Social Action, awarded by the center each year to a first generation U-M student.
"Nadine is truly an exceptional student and inspiration to all of us," says BA Program Director Sharon Maccini. "She has already had a strong impact on our community, and I look forward to seeing what else she's able to accomplish next year and beyond. I am so proud of her, and proud to call her a Fordie!"
Jawad will receive her award in a ceremony at the Harry S. Truman Presidential Library and Museum, in Independence, Missouri, on May 28.
--By Jacqueline Mullen (MPP '18)