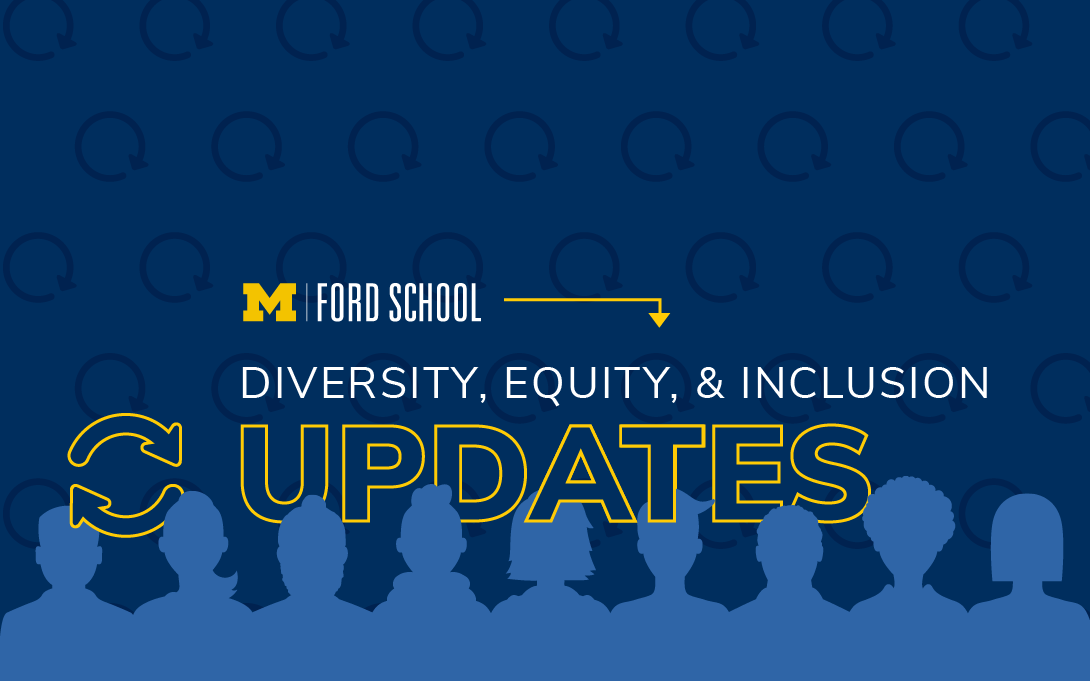 Updates regarding faculty, staff, and student DEI-related activity at the Ford School
Diversifying what and how we teach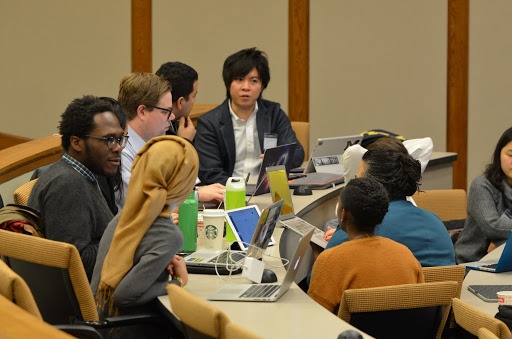 Ford School professor of Economics, Betsey Stevenson, speaks on three reasons companies are now showing support for BLM: morals, profits, and the lightbulb effect. Read the full Complex article here. Stevenson also spoke about the pandemic recession's burden on women that could drive inequality for decades. Read the full New York Times article here.
During the November 10 faculty meeting, the faculty heard from the Center for Research on Learning and Teaching's Director for Educational Development & Assessment Services, Whitney Peoples. Peoples  discussed principles and practices of anti-racist teaching. This introductory presentation provided faculty with a working definition of anti-racist pedagogy and offers a starting point from which Ford School faculty can structure their individual and collective engagements with anti-racist teaching.
Promoting an equitable and inclusive climate
During the November 13 Diversity, Equity, and Inclusion (DEI) Coalition meeting members received updates on the progress being made regarding mental health and well-being, community building, and engagement. 
At the Ford School, we feel strongly that this very important work cannot be done in isolation. We celebrate the progress being made, which is the result of active engagement from all members of the Ford School community. 
The Coalition heard updates on the mental health and well-being resources and supports that were shared with members of the Ford School community. Leading up to election week, faculty, staff, and students received a curated list of non-partisan resources that focused on engagement opportunities, mental health and wellbeing resources, and toolkits for localized conversations. Post-election, our community had access to staff-led virtual open office hours and the CAPS clinical social worker. With the intent to promote help seeking behaviors and emotional well-being practices, students continue to share mental health and wellbeing resources through additional channels such as newsletters and slack.
As we near the end of implementation of the Ford School's DEI 5-year Strategic Plan (2016 -2021), Ford School leadership is planning to identify strategic priorities for the next DEI Strategic Plan. This will require feedback and wide stakeholder engagement of Ford School faculty, staff, students, and alumni. As a stakeholder, the DEI Coalition is busy identifying priorities for the next two years. During the November meeting, Coalition members participated in a brainstorming sessions to identify initiatives to carry forward as well as barriers to the progress being made. The DEI Coalition supports active engagement from all members of the community —including staff, students, and alumni. At this meeting we heard from Sharanya Pai, SAC DEI Chair, who discussed the new student-led Anti-prejudice Taskforce. Originating from a summer of conversations around police brutality, systematic racism, and anti-racism. The Task Force's purpose is to amplify the actions and voices that are working towards anti-prejudice at the Ford School. The first anti-prejudice forum was held November 20. The next Coalition meeting is December 11.
Upcoming events
Tribal Sovereignty: Current issues and legal challenges
December 1, 4:00 - 5:00 PM EST
Join us for a panel discussion on Tribal issues, focusing on Tribes' status as sovereign governments and current issues relating to tribal government. The panel will feature Riyaz Kanji, partner at Kanji & Katzen PLLC, and Bryan T. Newland, Chairperson of the Bay Mills Indian Community and former senior policy advisor to the Assistant Secretary of the Interior for Indian Affairs. Ford School professor Jenna Bednar will moderate the discussion. For more information visit here.
[Rackham] LEAD: Decentering Whiteness in the Academy
December 4, 12:00 - 1:00 PM EST
This LEAD conversation will address how administrators, faculty, and staff can decenter whiteness at an institutional level and create a sense of belonging for all. The racial inequities exposed by COVID-19 paired with a national uprising against systemic racism has led colleges and universities nationwide to prioritize anti-racist teaching. Registration is required for this event.
2

021 Rev. MLK Jr. Symposium - Where Do We Go From Here
January 18, 10:00 AM EST
The keynote memorial lecture for the annual Reverend Dr. Martin Luther King, Jr. Symposium will be held virtually. The keynote speaker will be announced in the coming weeks.  The lecture is coordinated by the Office of Academic Multicultural Initiatives under the Office of Diversity, Equity and Inclusion. The keynote lecture is co-sponsored by the Ross School of Business with support from the William K. McInally Memorial Lecture Fund.
Additionally, The MLK Symposium Planning Committee is currently accepting vibrant and impactful proposals from university community members for inclusion in this year's keynote memorial lecture, OAMI website, and/or promotional materials. The vivid and timely submissions for consideration may be in the form of poetry, prose, or visual art of any style. To learn more, visit here.
"U.S. Race Relations and Foreign Policy" with Ambassador Susan D. Page
January 27, 4:00 PM EST
Donia Human Rights Center Annual Martin Luther King, Jr. Lecture
Ambassador Susan D. Page, Professor of Practice in International Diplomacy at the Ford School will give the Donia Human Rights lecture. This event is co-sponsored by the International Institute and LSA Diversity, Equity, and Inclusion. Register for this event here.
Learning and development
The list of mental health and well-being resources are designed to support faculty, staff, and students through the November 20th transition to remote learning and work. These resources continue to promote help seeking behaviors and emotional well-being practices.
Got two and a half minutes? Check out "Academic Minute," a podcast by Inside Higher Education featuring researchers' perspectives on a variety of topical issues. The NCID partnered with "Academic Minute" on a week-long series focused on COVID-19 implications for diversity, equity, and inclusion. In these podcasts, Diversity Scholars Network members shared insights around COVID-19 impacts on workplace and prison safety, racism and xenophobia, health and well-being, and education.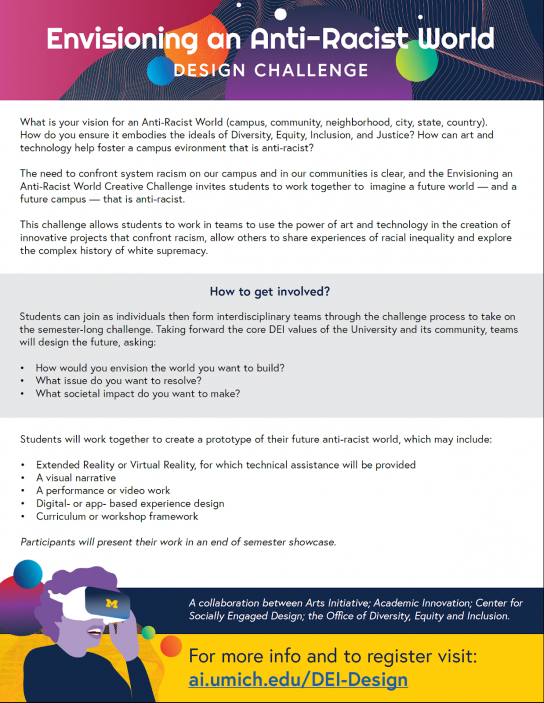 Registration is now open for undergraduate and graduate students to join the "Envisioning an Anti-Racist World Design Challenge," a team-based, interdisciplinary experience during Winter 2021 which integrates the arts with extended/virtual reality technology. Formal arts or technology backgrounds are not required--just the commitment to explore & innovate!
More information is available here including the Challenge Application and FAQs. Applications are due December 4, 2020.
The university-wide Democracy & Debate Theme Semester educational initiative seeks to engage students, faculty, and staff on issues of free speech and exchange of ideas, what it means to be a member of a democratic society, and democratic engagement from a global perspective. As part of this initiative, U-M will host the Democracy Café Initiative, which offers resources to the campus community and the general public during and after the theme semester. For more information on this university-wide initiative visit here.
The Stanford Graduate School of Business is offering a self-paced Anti-Racism and Allyship 7 Day Journey. The journey is set up as a series of readings, exercises, opportunities for reflections, and Anti-Racist actions you can take. For more information about the resource visit here.
Course Hero is hosting a year-end virtual faculty retreat on December 3 from 9:00 a.m. to 4:00 p.m. (PT), for college instructors and administrators across the country. The program will feature crisis teaching workshops, discussion forums, the latest student and faculty mental health research and next steps, as well as live music, yoga, and family programming. For more information and registration visit here.
Resources