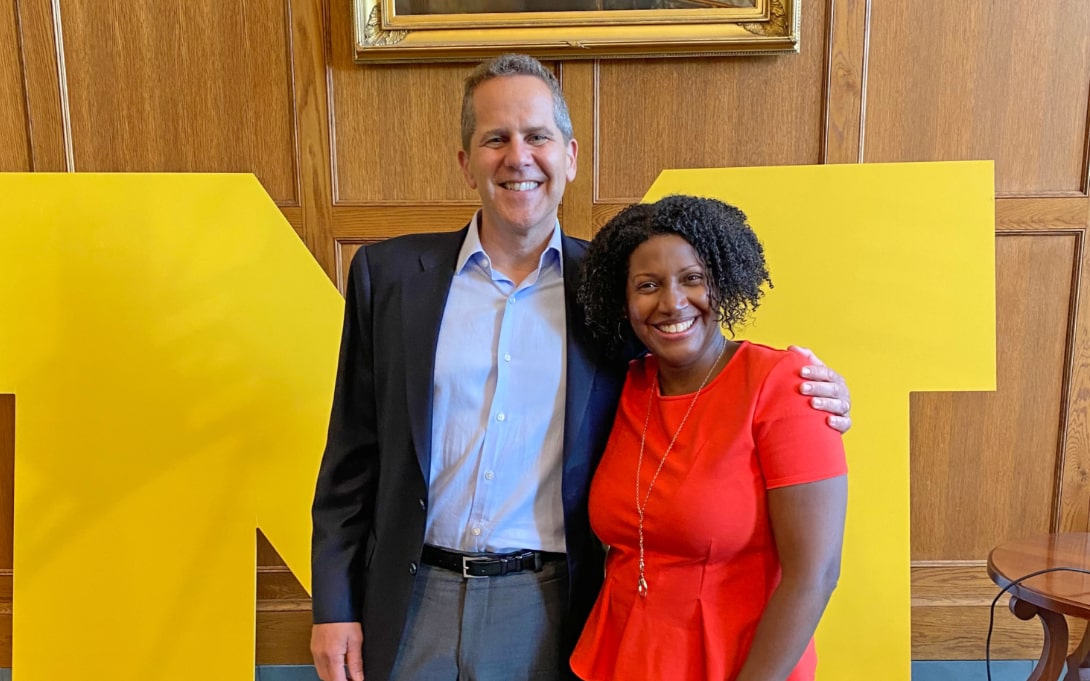 Passing the baton
A June gathering with faculty and staff celebrating Michael Barr's first term as dean—and this photo with then-associate dean Celeste Watkins-Hayes—took on new meaning a couple of weeks later when the U.S. Senate confirmed Barr as the vice chair for supervision with the Board of Governors of the Federal Reserve System. Watkins-Hayes was later named interim dean.
---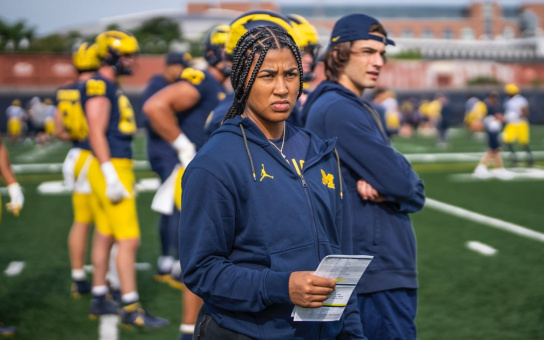 Eyes downfield
Michigan football fans will know Ford School student Mimi Bolden-Morris (MPP '24) from the sidelines as a member of the undefeated (at press time) team's coaching staff. Bolden-Morris is in her first year as an offensive graduate assistant with Coach Jim Harbaugh's Wolverines, the first female graduate assistant at a Power Five school.
---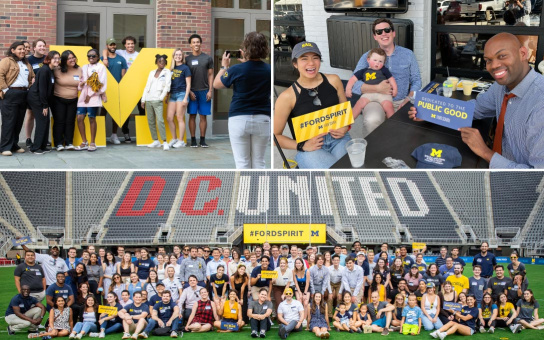 Together again!
On July 14, hundreds of alumni, students, and their families gathered in Washington DC, Detroit, Raleigh, Ann Arbor, and online to celebrate the Ford School's shared community and enjoy trivia and conversation at the 12th annual Worldwide Ford School Spirit Day.
---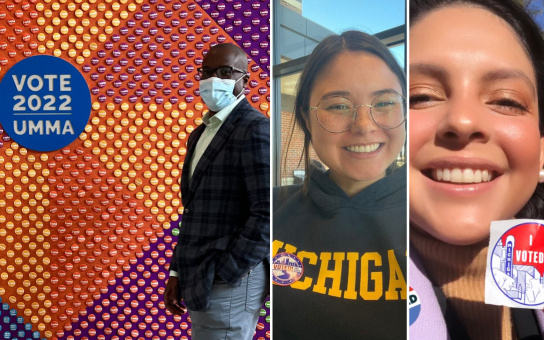 #FordSchoolVotes
Fordies once again were actively involved in elections at the local, state, and federal levels on behalf of candidates and ballot measures—making calls, knocking doors, helping to register new voters, and more. Undergraduates Hanna Jatsch (BA '23), Isabelle Schindler (BA '22), Mark Kava (BA '22), and Mlaika Azhar (BA '23) served as UMich Votes Fellows, helping with key elements of the broader university's efforts to make voting simple and understandable for students and other first time voters. Students, faculty, and staff sent in their voting selfies, as well—view them all on Instagram.
---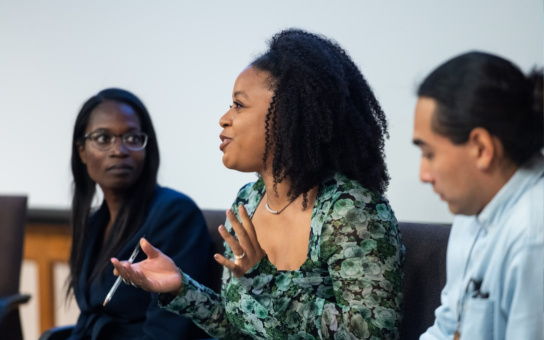 Catalyzing racial justice
Folks packed into the Betty Ford Classroom in early October to hear from Dr. Atinuke Adediran, Makeda Easter, and Julian Brave NoiseCat—inaugural visiting fellows with the school's Center for Racial Justice. In conversation with Dean Celeste Watkins-Hayes, they gave Fordies an inside look at their catalyst projects and their work within the racial justice landscape.
---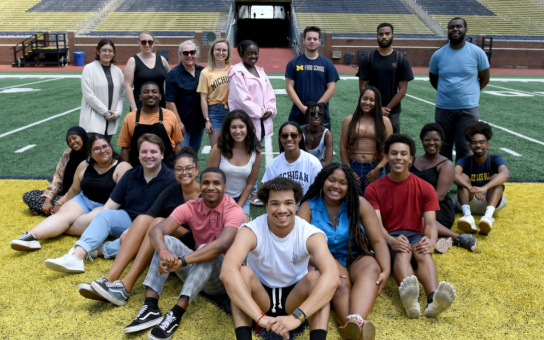 41st summer for PPIA
Weill Hall buzzed with excitement during the summer months as the Ford School hosted 24 rising undergraduate seniors for the 41st year of its Public Policy and International Affairs (PPIA) Junior Summer Institute.
---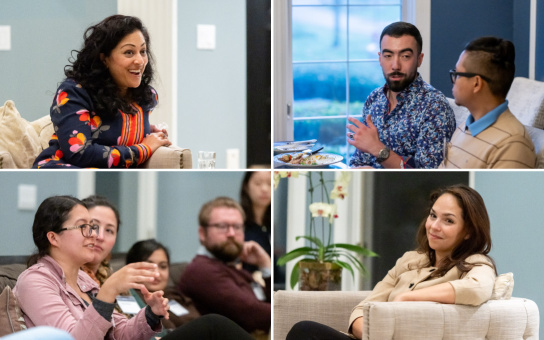 Leadership journeys
This fall, the Ford School's Leadership Initiative launched a new program for graduate students to learn about pathways to leadership from Ford School faculty in an informal, small group setting. Professor Morela Hernandez, director of the Leadership Initiative, hosted graduate students for dinners at her home with Associate Dean Luke Shaefer and Professor Shobita Parthasarathy.
---
The House That Becky Built
It was a big moment for the school, and a joyful celebration of a beloved leader who "put the Ford School on the map, literally," as interim dean Celeste Watkins-Hayes put it. Former dean Becky Blank returned virtually for an hour-long conversation on her impact as dean and her advice to students. Afterward, the community enjoyed a reception in the Rebecca M. Blank Great Hall, named in honor of her service and accomplishments.
Please consider making a gift that honors Becky's tremendous contributions to the Ford School through the Rebecca M. Blank and Hanns Kuttner Fund for Student Support.
---
More in State & Hill
Below, find the full, formatted fall 2022 edition of State & Hill. Click here to return to the fall 2022 S&H homepage.