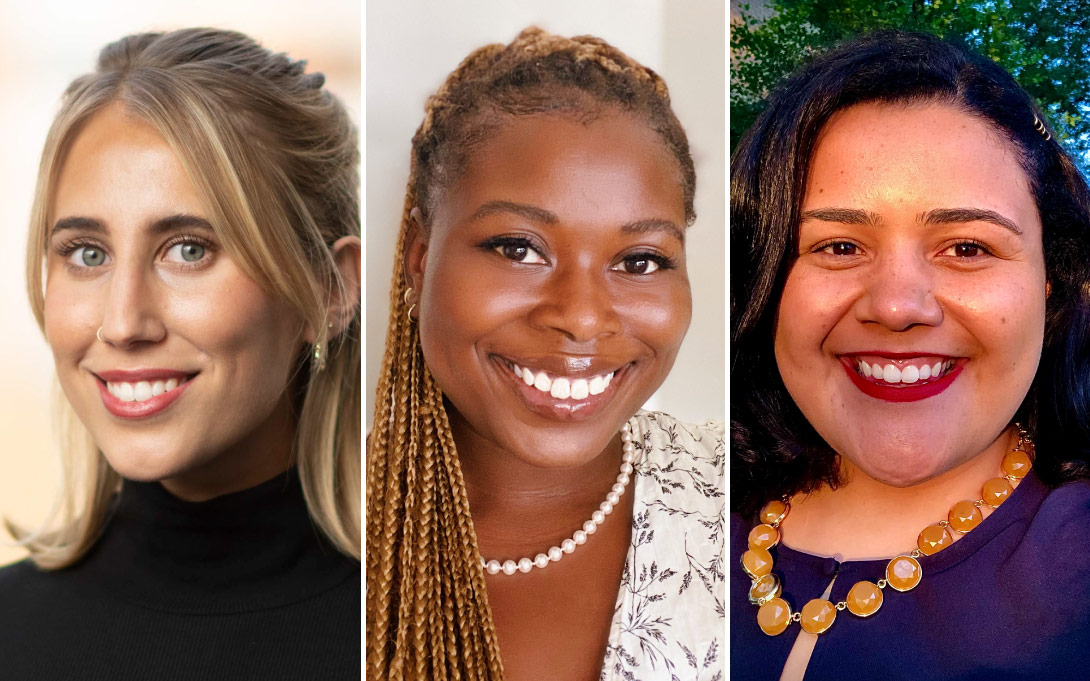 Each year, the Ford School's David Bohnett Foundation Leadership and Public Service Fellowship provides three talented master's students with tuition support, health care, and a funded internship with the City of Detroit. Last summer, 2021 Bohnett Fellows Emma Jabour (MPP/MBA '24), Terri N. O'Neal (MPP '23), and Olivia Vaden (MPP '23) worked with municipal government and community stakeholders to address bureaucratic challenges, implement cultural arts programming, and develop a career navigation portal, among other important projects. 
Emma was staffed in the Office of the Chief of Staff within the Mayor's Executive Office. In this role, she worked on a variety of department-level projects that were elevated to the Mayor's Office. Emma said she especially appreciated the chance to work on process development and project management for the City's Fire Insurance Escrow (FIE) Account, a historically challenging fund.
"I was tasked with moving nearly $11 million dollars from the city's FIE fund out to the appropriate departments/policy holders. This work was reported directly to the Mayor as it was determined to be a high priority of his," Emma said. "From the time I initially convened the working group in July to the end of my Bohnett Fellowship in mid-August, I oversaw the movement of $600,000 worth of funds. At the end of my fellowship, I led the group to develop a new reporting system, commissioned another department to build out a new process for sustainability of the new management system, held departments accountable for their roles in weekly meetings, and carved a path toward moving $1 million by the end of September 2022."
Born and raised in Detroit, Terri engaged her community in her work. As part of the Planning and Development Department (PDD), she was able to follow her passion of addressing equitable community development and neighborhood revitalization in historically under-resourced communities.
During her internship, Terri developed a strategic neighborhood framework plan to implement cultural arts programming this upcoming summer. With the help of her colleagues, she coordinated community stakeholder meetings and created a Neighborhood Steering Committee. 
"The PDD staff were very friendly and worked well together. I appreciated how everyone had different backgrounds and brought their unique experiences to their roles," Terri said. "This made for a dynamic team environment. It also motivated me to ask questions because there was so much expertise in the room. I was inspired that everyone on the team was eager to help each other with their growth areas."
Olivia worked in the Detroit Employment Solutions Corporation, where she was able to work alongside Kevin Naud (MPP '21), a former Bohnett Fellow. Olivia led the department's research efforts on career navigational tools. These efforts resulted in a scope of work and RFP for the development and implementation of a new Detroit at Work career portal for job seekers. Olivia continues to work at DECS for the portal's launch. 
For Olivia, the fellowship represented an opportunity to gain the education and experience she wanted. "​​As a first-generation, low-income student, a full scholarship was the only way I could consider U-M," she said. "When I learned about the Bohnett Fellowship and its ties to the City of Detroit, it was a no-brainer. My career has been centered around the city and I knew I wanted to continue working there as I continued my education."
She appreciated the connections and experiences that being a Bohnett Fellow has afforded her. 
"Being a Bohnett Fellow has opened up so many opportunities for me," she said. "From past fellows, to folks at the City of Detroit that are familiar with the fellowship, I have been able to meet amazing people that have helped me gain the experience I was looking for when I first applied to the Ford School. This experience solidified my desire to forge my own path in municipal government."
Last fall we welcomed the 2022 Bohnett Fellows—Kayla Guillory (MPP/MDes '24), Zoe Pidgeon (MPP '24), and Rob Svoboda (MPP/MURP '23)—who will spend summer 2023 working on local issues in Detroit. The fellows have already gotten a head start, recently attending the U.S. Conference of Mayors meeting in Washington, DC. 
About the fellowship
The David Bohnett Foundation Leadership and Public Service Fellowship, generously funded by University of Michigan alumnus David Bohnett (MBA '80), is competitively awarded to three incoming master's students each year. The fellowship includes two years of in-state tuition support and a funded internship with the City of Detroit. Through the fellowship, the Bohnett Foundation seeks to improve society through social activism and advance a spirit of community and justice. Read David Bohnett's description of the fellowship.