Here are just a few of the international learning opportunities that Ford School undergraduate and graduate students have undertaken since 2020—travel courses, research projects, internships, externships, and simulations—all preparing students for careers of impact.
About 25% of MPP summer internships are focused on international issues. Recent hosts include the German Marshall Fund, China Development Research Foundation, UN's International Organization for Migration, NASA's Office of International and Interagency Relations, the World Bank, and more.
Phong Hong (MPP/MSc '24) developed a needs assessment survey for the municipality of Budapest and researched the public perception of refugees' needs and community concerns in Central and Eastern Europe for his extended research project with Direct Relief International.
Ayla Kaufman (BA '24) interned at the U.S. Libya External Office at the U.S. Embassy in Tunisia.
Mohamed Ayoub (MPA '23), Ryan Fogarty (MPA '22), Rawan Ajaz Latif (MPP '23), Anna Rymill (MPP '23), and Max Shpilband (MPP/MIRS '23) provided ArcGIS mapping and evaluations of evacuation and crisis planning for the U.S. Embassy in Lebanon in a Diplomacy Lab project.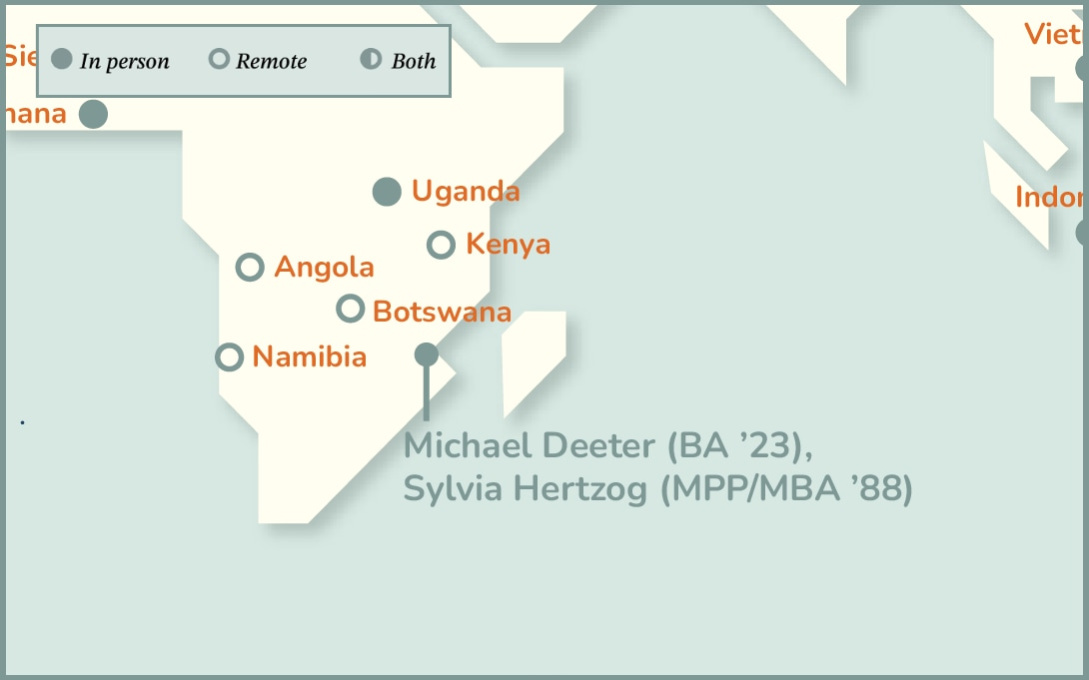 Michael Deeter (BA '23) interned with Sylvia Hertzog (MPP/MBA '88) at The Charcoal Project in Eastern Africa.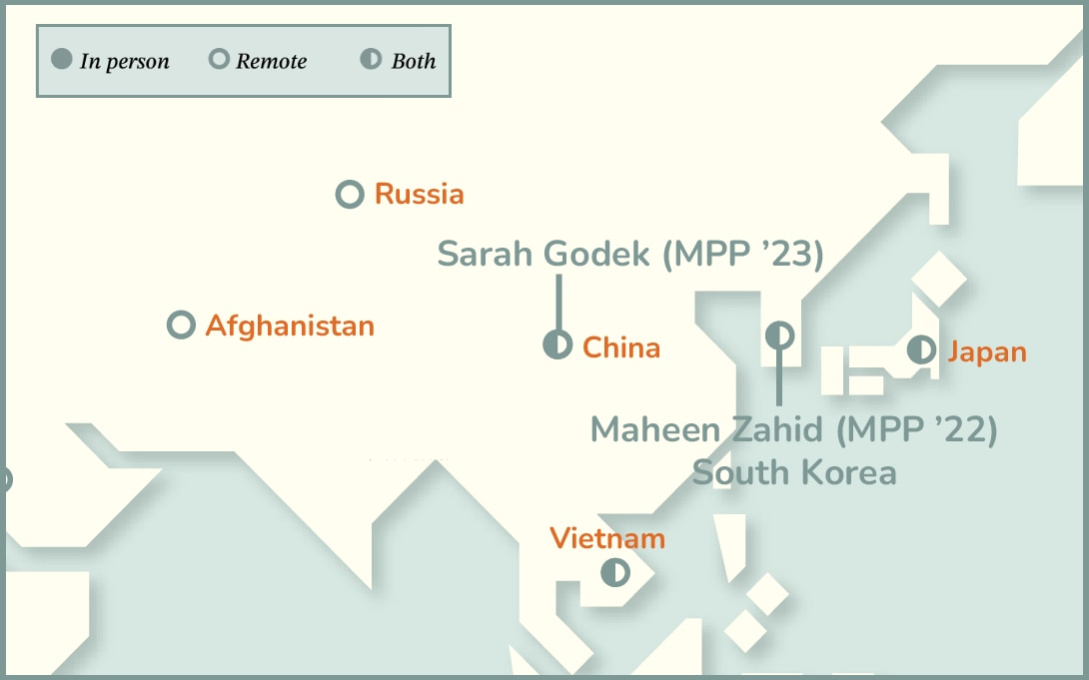 Sarah Godek (MPP '23) interned with the Asia Society Policy Institute and aims to publish her student-initiated project research on crisis de-escalation mechanisms in the U.S.-China relationship.
Maheen Zahid (MPP '22) researched security and climate change cooperation between the U.S. and South Korea at the East-West Center in Washington. Her extended research project was made possible through the financial support of the Korea Foundation.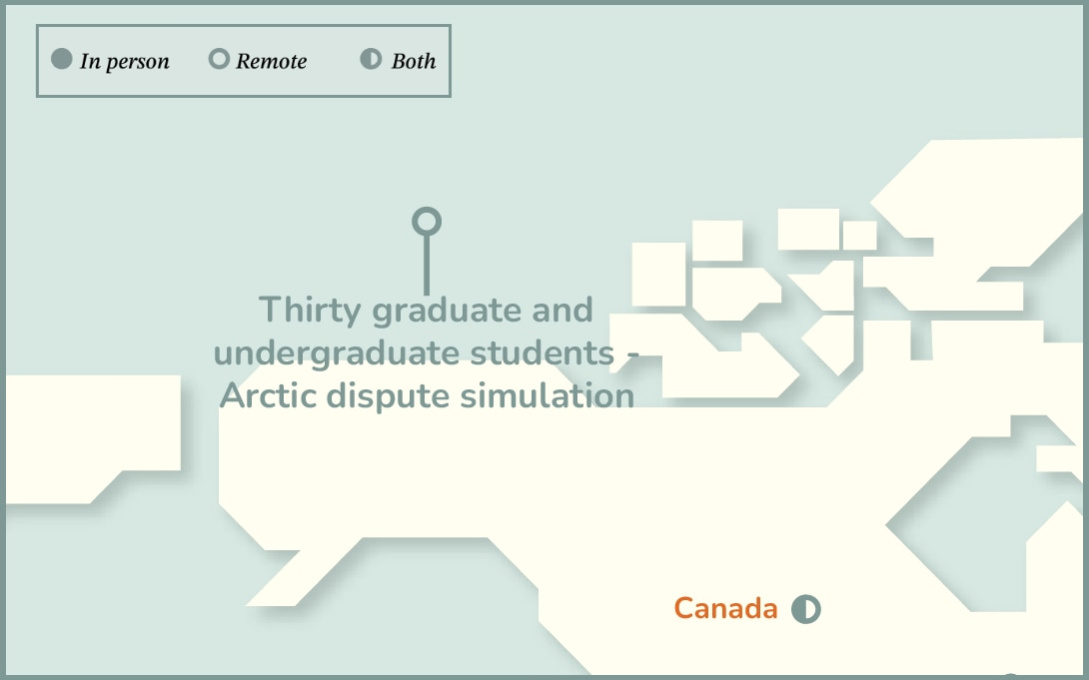 Thirty graduate and undergraduate students tackled disputes over territory and resources, environmental issues, and Indigenous people's way of life in the Arctic in a negotiation simulation with the U.S. Army War College.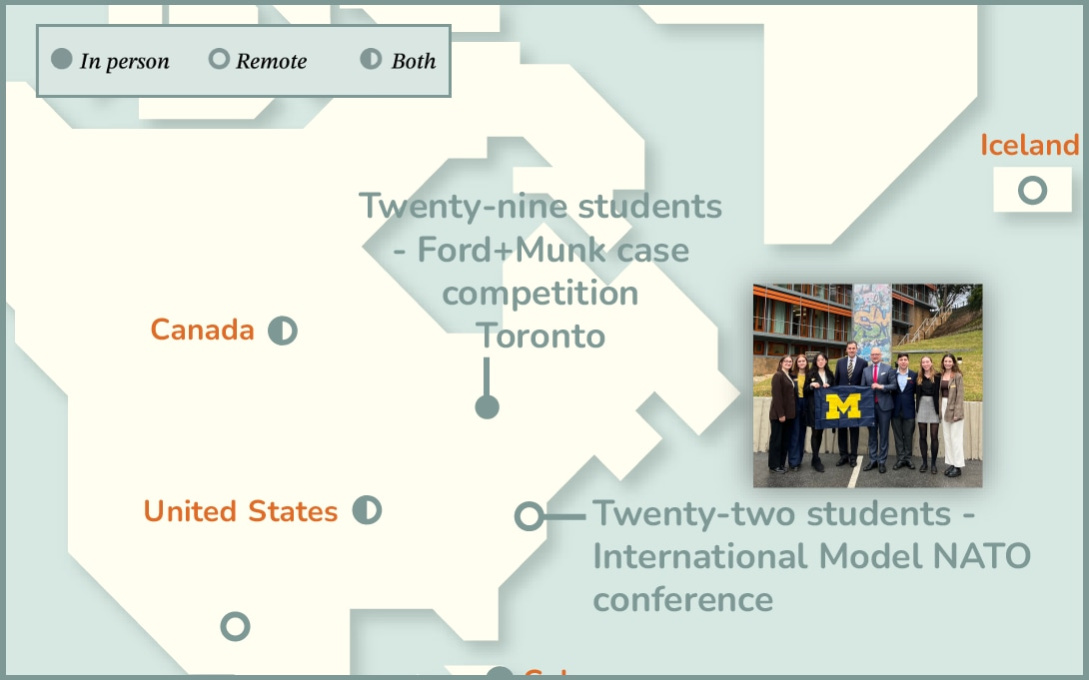 Twenty-nine students participated in the Ford+Munk case competition in Toronto, presenting on the transition to clean energy systems in Canada and the United States.
Twenty-two students attended the International Model NATO conference.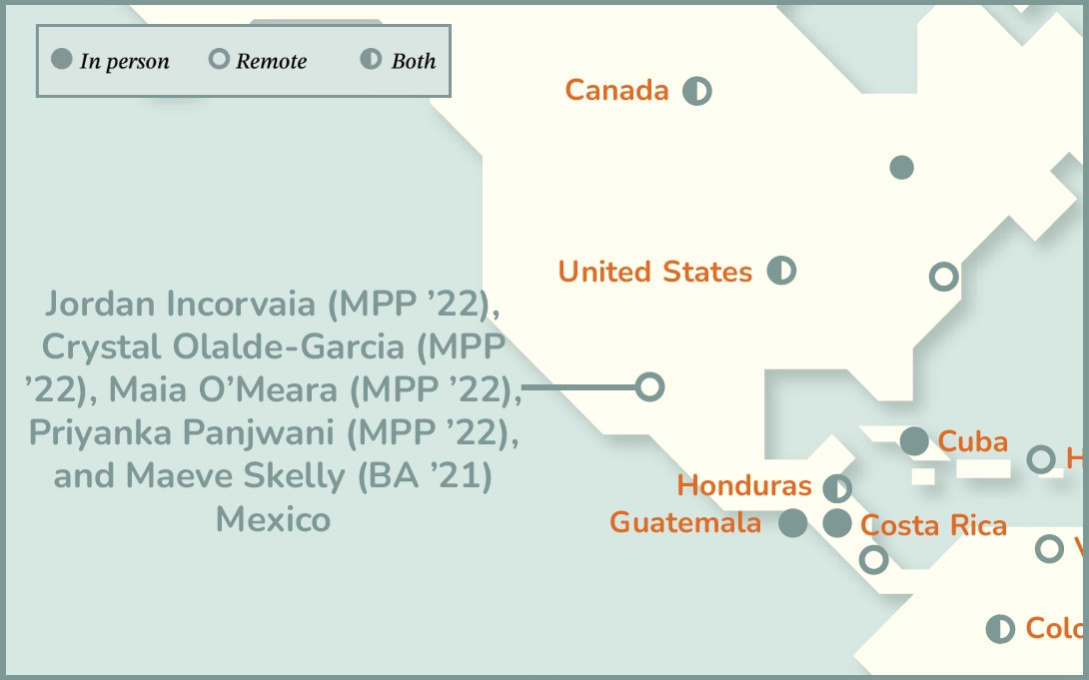 Jordan Incorvaia (MPP '22), Crystal Olalde-Garcia (MPP '22), Maia O'Meara (MPP '22), Priyanka Panjwani (MPP '22), and Maeve Skelly (BA '21) used GIS maps to visualize the diaspora of U.S. citizens in Mexico in their Diplomacy Lab project.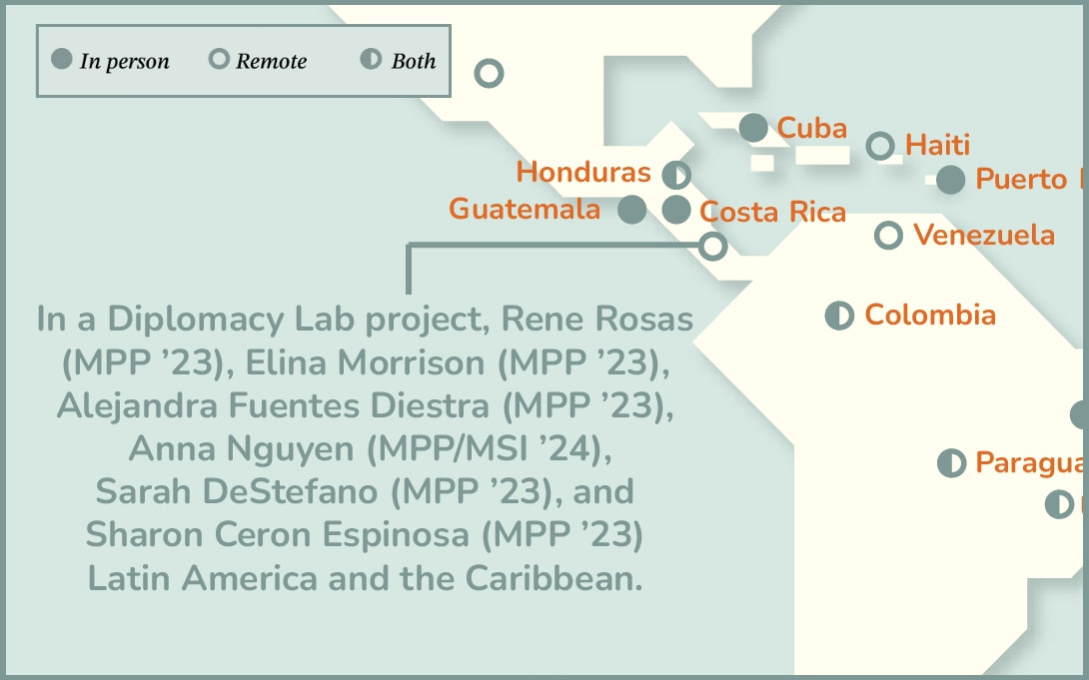 In a Diplomacy Lab project, Rene Rosas (MPP '23), Elina Morrison (MPP '23), Alejandra Fuentes Diestra (MPP '23), Anna Nguyen (MPP/MSI '24), Sarah DeStefano (MPP '23), and Sharon Ceron Espinosa (MPP '23) assessed inclusion, equity, and accessibility in the criminal legal systems in Latin America and the Caribbean.
Fifteen graduate students spent their spring break in Chile for the 2023 International Economic Development Program (IEDP).
---
More in State & Hill
Below, find the full, formatted spring 2023 edition of State & Hill. Click here to return to the spring 2023 S&H homepage.