Arab American Perspectives in Public Policy
Event link will be sent to registrants before the event.
Date & time
Apr 6, 2023, 11:30 am-12:50 pm EDT
Location
This is a Virtual Event.
Over the past few decades, Arab Americans have been at the forefront of news cycles and policy discussions.
Join P3E for a virtual panel discussion with policy experts that explores perspectives on Arab American issues and whether current policies and legislation meet the needs of Michigan's Arab American population. By sharing the experiences and knowledge gained throughout their journeys, our panelists aim to inspire hope and action for the future of public policy for Arab Americans. 
About Our Speakers
Saif Alsenad (Moderator)
Saif Alsenad is the Executive Assistant to the Mayor of Inkster, Michigan. He is a Henry Ford College Alumnus with an Associate's Degree in criminal justice and law enforcement. He obtained a bachelor's degree in criminal justice administration from Madonna University. While Saif was attending school and working full-time as a District Manager for Tim Hortons, he also volunteered as a full-time Auxiliary Police Officer for the Inkster Police Department. Mr. Alsenad was a Court Officer for the 18th District Court, Judge Cicirelli's courtroom. Mr. Alsenad would then get hired by Chief Riley as a Police Cadet and later promoted to the position of Evidence Technician. As an Evidence Technician, he collected and preserved evidence from multiple crime scenes. Mr. Alsenad was assigned to the Detective Bureau, Criminal Investigation Division. Mr. Alsenad assisted Michigan State Police and other law enforcement organizations in many different investigations within the city.  When not at work, Saif would distribute food, deliver medical supplies, and volunteer inside and outside the community, from linking various community members seeking help to coordinating food bank distributions. Mr. Alsenad serves as an executive board member of Reaching our Children and Humans for Humanity.
Mallak Beydoun
Mallak Beydoun (MPA '22) is an experienced government professional who has dedicated over a decade to this field. She has built a reputation as a top-tier strategist with strong judgment and a history of success. Beydoun's talent for building coalitions and managing public sector projects has made her a highly sought-after expert for various public, private, and government projects. She serves in dual capacities as a Senior Executive- Special Projects with the City of Detroit and Senior Policy Advisor with SustainabiliD, providing strategic counsel and implementation support on numerous sustainability-related projects.
Throughout her career, Beydoun has actively supported and executed several successful political and legislative campaigns, including co-managing the 2021 reelection campaign of Detroit Mayor Mike Duggan. She is a member of the Affirmative Action Committee for the Michigan Democratic Party Executive Board and formerly served on the National Policy Team-21st Century Government for Biden for President.
Beydoun holds a Bachelor's Degree in Economics from the University of Michigan and a Master's Degree from the Gerald R. Ford School of Public Policy at the University of Michigan. In her personal life, she is an enthusiastic Detroit coffee and restaurant connoisseur, avid reader, and a supporter of all things "Go Blue!"
Alabas Farhat 
State Representative Alabas Farhat (MPA '23) is serving his first term representing the 3rd House District, which includes Dearborn and other Wayne County communities. He is from Southeast Michigan, a son of immigrants, and has experience serving at all levels of government — local, county, state, and federal. Rep. Farhat graduated from the University of Michigan Dearborn with a bachelor's degree in public health and went on to pursue a master of public policy at the University of Michigan's Ford School of Public Policy with a focus on social policy development.
Rep. Farhat discovered his passion for public service during his work as a legislative intern in the Michigan House of Representatives. Through his daily communication and work with constituents, he learned that real change starts with the people. That's why he immensely values listening to and working with residents in Wayne County and across Michigan — he believes this direct communication and close connection with constituents is the key to revitalizing the community, improving the standard of living for all, and creating positive change for generations to come.
Rep. Farhat's central legislative priorities are education, infrastructure, and public health. He has a strong focus on bringing resources back into Michigan schools to help students and staff lead healthier, happier lives, to keep schools open and thriving, and to reinvest in the teaching profession and retention. Rep. Farhat knows that as our environment continues to change, so too must our infrastructure. That's why he gives precedence to policy choices that make the necessary investments to advance Dearborn's infrastructure and employ sustainable practices in the process. Ensuring all Michiganders have clean air to breathe and water to drink will always be a principal priority for Rep. Farhat, because he understands the consequences of climate change are real and believes the state government's role is crucial in safeguarding Michigan's future.
Rima Mohammad
Dr. Rima Mohammad was recently elected to serve as a Trustee for the Ann Arbor Public Schools Board of Education and currently serving as Vice President of the board. Her campaign focus was on fostering community involvement through open communication, transparency, and inclusiveness. Her priorities include addressing challenges facing Ann Arbor Public Schools, including issues surrounding community engagement, resource and opportunity gaps in education, and diversity, equity, inclusion, and anti-racism. She is the first Arab American to be elected to the Ann Arbor Public School Board and she believes her lived experiences as a Palestinian refugee who lived through social and economic hardship, a person of color, a person of a marginalized religious group, a researcher, an educator, and a healthcare worker bring a unique perspective to the Ann Arbor School community. In addition to her dedication as a Trustee, she is a Clinical Associate Professor at the University of Michigan College of Pharmacy and a Clinical Pharmacist Specialist at Michigan Medicine. She is also a very active member of the Ann Arbor and Muslim community especially surrounding schools and learning, health and pandemic response, and community engagement.
Khalil Rahal
Khalil Rahal is the Economic Development Director for DTE.  Prior to that, he served as the Chief Administrative Officer of Wayne County, where he managed several different departments, including Management & Budget, the Department of Public Services, Economic Development, Community Development, State and Federal Legislative initiatives, Facilities, and Real Estate Management. He also represented the County Executive on several different authorities, including SMART, the largest public transit agency in the state, the Wayne County Land Bank, SEMCOG, and several others. During his time at the executive's offices, he was recognized by many organizations, including Crain's 50 names to know in Government, MEDA's 2019 Economic Developer of the year, and Crain's 40 under 40.
Have any questions?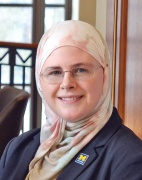 Administrative Coordinator/Project Coordinator, Weiser Diplomacy Center, Center for Local, State, and Urban Policy
Weill Hall
735 S. State St. #5246
Ann Arbor, MI, 48109
Contact