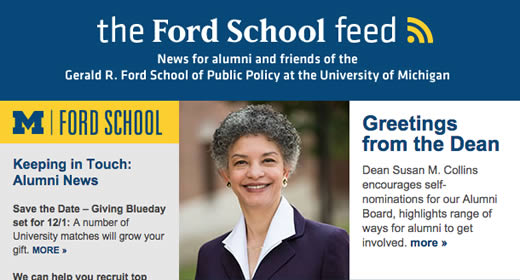 The latest edition of the Ford School feed, an email news source for alumni and friends of the school, arrived in inboxes this week.
This spring edition of the feed calls for Alumni Board nominations; celebrates Susan Dynarski's accomplishment as a recipient of the NASPAA "Public Service Matters" Spotlight Award; highlights the buzz around Luke Shaefer and Kathryn Edin's new book, $2:00 a Day: Living on Almost Nothing in America; announces the launch of the Ford School's Diversity, Equity, & Inclusion strategic planning initiative; and announces a generous $750,000 pledge from the Harry A. and Margaret D. Towsley Foundation to support the Riecker Michigan Delegation Fellowship. The feed also reminds alumni to mark their calendars for Giving Blueday on December 1.
Read the entire edition here.
We email 'the feed' to all Ford School alums, students, faculty, staff, and friends a few times each year. Are you an alum who didn't receive today's edition? Update your contact information today.